Music links In the early '90 and into the '00s I played in numerous punk bands in Berkeley, Oakland, and San Francisco. Lately (the last 10 years or so) I've been pretty active as a performing and recording autoharpist and double bassist, leaning towards the quiet avant garde end of the improvisation spectrum (whatever that means). I also study Sarangi with Smt. Aruna Narayan in Toronto. Here's a small list of links related to musicians or music that I like.
Simple Geometry Records.. A record label I've run since 2005.
Tetuzi Akiyama
. Guitarist.
My autoharp excursion. A traditional American instrument.
Glass Plates. My trio in Vancouver. Quiet improvisation.
Rhodri Davies. Harpist.
Le Quan Ninh. Magician
Andrea Neumann. Innenklavier.
Nate Wooley. Trumpet.
Chris Cogburn. Percussion.
Jonathan Sielaff. Clarinets.
Gruppo di Improvvisazione Nuova Consonanza. Godfathers.
UBU Web. Check out John Cage meeting Sun Ra.
Gu-qin music. The most modern sounding pre-16th century music you'll hear.
Loren Connors. Guitarist.
Joshua Stevenson. Synthi.
David's collection of amazing videos of improvised music performances (including the Sealed Knot).
VITAL Weekly. A weekly email list of reviews of interesting musics.
Touching Extremes. More interesting reviews.
Bagatellen. Occasionally interesting reviews.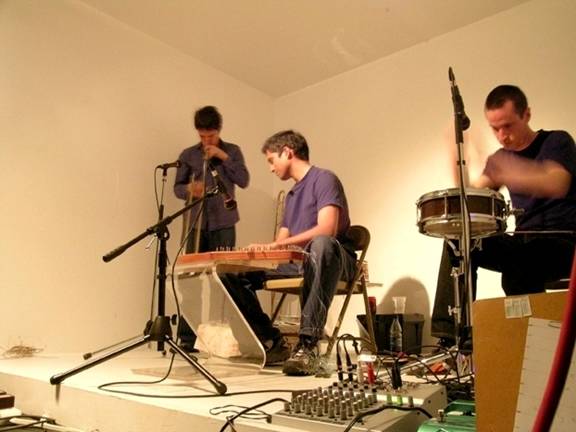 glass plates, c. 2004 at blim (chinatown), vancouver bc.
pictured are (l-r) robert "sweet tats" pedersen, chandan narayan, and jeffrey allport.