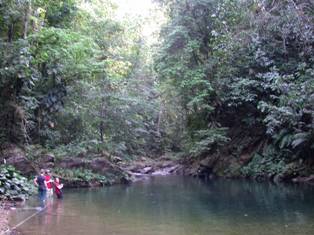 Photo: Marianne River, Trinidad.
For my master's research, I used natural populations of Trinidadian guppies (Poecilia reticulata) to examine the relative influences of two processes in the genetic structuring of populations: natural selection versus geography. Specifically, I examined the relative roles of physical barriers (waterfalls), geographic distance, predation, and various abiotic environmental features on the amount of genetic differentiation and gene flow among guppy populations. I was thus able to determine whether natural selection (related to predation and environmental features) or decreased dispersal (due to barriers or geographic distance) played a greater role in the reduction of gene flow.
I found that physical barriers to dispersal and geographic distance played a large role in the reduction of gene flow among guppy populations, but that environmental features did not. Unexpectedly, I observed that predation influenced gene flow in the direction opposite to that which I predicted: gene flow was greater among populations experiencing different predation regimes than among populations experiencing similar regimes. This result might be due to mate choice. Male guppies from high-predation sites are less colourful than those from low-predation sites, and females at high-predation sites might prefer brightly-coloured males dispersing from low-predation sites. My research helps clarify the mechanisms involved in the production and maintenance of biological diversity.
Key publication:
Crispo, E., Bentzen, P., Reznick, D.N., Kinnison, M.T., and Hendry, A.P. (2006) The relative influence of natural selection and geography on gene flow in guppies. Molecular Ecology 15:49-62. (PDF)