[ Home ]
[ Office Information Brochure ]
[ Preventive Health Tables ]
[ forms ]
[ curriculum vitae ]
Michelle Greiver, M.D., CCFP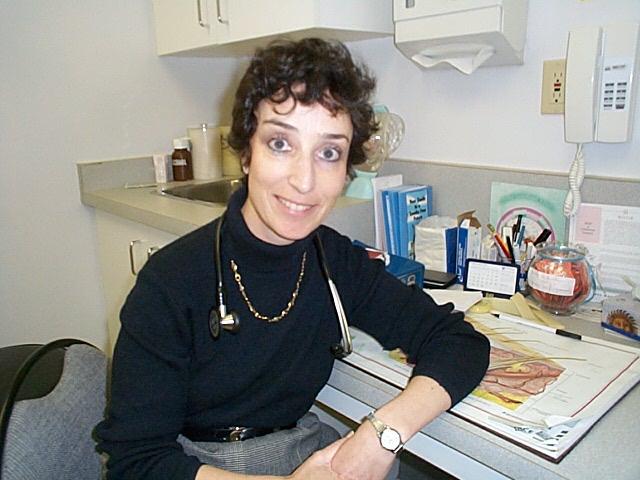 , FCFP
Family Physician, North York Family Health Team
240 Duncan Mill road, suite 705
Toronto, Ontario, M3B 3S6
(416) 222-3011
Fax: (416) 221-3097
Practice email: nyfht705@rogers.com
Physician email: mgreiver@rogers.com
Personal web page: drgreiver.com
North York Familiy Health Team: http://nyfht.com
June 26 2016
This shows the days that I will be away from the office ("busy"). If you need care on those days, please phone us and our capable Nurse will call you back. If you prefer to wait, we will give you an appointment for the first week that I am back in the office.
ANNOUNCEMENTS:
Change in office hours
I will be taking on an enhanced research role starting in the summer of 2016. This stems from an interest in what makes our Health Care System work better for all of us. The research to date has involved studies looking at using computers (Electronic Medical Records) to improve care, and what health care is like for people with chronic conditions like diabetes. The new research will look at improving care for patients that are seen frequently at both hospital and at their family physician's office because they are ill: the different part of the health system don't always work well together for patients. Because of this, I will be reducing my clinic hours from 3 to 2 days a week (Tuesdays and Thursdays), starting in July 2016.
Publications and research articles can be found on Pubmed
New Sunday Morning Clinic available
We are happy to announce that our office will be open for new SUNDAY MORNING CLINIC HOURS.
Starting the first weekend in March, Dr. Tarek will be holding a SUNDAY MORNING CLINIC at our offices from 9:00 – 12:00. The clinic will be open to all patients of Drs. Greiver, Hosokawa, Jaskolka, and Tarek who would like to be seen for urgent, same-day appointments.
We will not be pre-booking appointments. Like a walk-in clinic, patients will be seen on a first-come, first-served basis. We will also not be seeing patients during this clinic for complete physical exams, preventative care, counseling, or chronic issues.
Please call the office prior to coming to ensure that the clinic is open.
We intend to stop registering patients to be seen at 11:30, but we do reserve the right to close the clinic to further patients earlier should volumes become excessive.
North York Family Health Team Programs:
Our Family Health Team has various group and individual programs. All programs require a referral. If you are interested in joining a program, please discuss this with your physician or nurse practitioner and we can refer you.
Diabetes Education Program: we offer the following patient services:
Group classes with individual follow up for people with pre-diabetes
Individual counseling for Type 2 diabetics where HbA1C is >7.5% (appointment with Nurse or Dietitian)
Glucometer Teaching
Smoking cessation program
This program provides additional counseling for people who are ready to quit. If appropriate, it also provides free Nicotine Replacement products.
Prenatal Nutrition.
Description: This is a general information session covering nutrition recommendations during pregnancy. It is held every other month and open to any patient of the North York Family Health Team interested in learning about prenatal nutrition (either planning to become pregnant or currently pregnant).
Craving Change.
Description: A 6 week weight loss program
Heart Health.
Description: This is an introductory seminar for individuals with high cholesterol or high blood pressure. It is held once a month on the second Wednesday. Patients with high cholesterol or high blood pressure must attend this seminar before a one-on-one appointment with the dietitian
Cognitive Behavioural Therapy (CBT) for depression or anxiety
The group runs for 8 consecutive weeks.
Description: 8 week group sessions using CBT. For those experiencing feelings of depression or anxiety, able to function positively in a group setting as well as commit to weekly group attendance and weekly group homework, 18+ years old.
.
OPEN ACCESS BOOKING
We currently use an Open Access Booking System; if you need an appointment, you can usually be seen on the same day; if I am not in the office that day, you can be seen by our Nurse Practioner or I will see you by the next clinic day. For more information please see our Open Access page
Welcome to my personal home page. I am a Family Physician in Toronto, on staff at North York General Hospital. For detailed information about office policies, please see my Practice Brochure. I am a member of a Family Health Team, the North York FHT; our Team includes several Allied Health Professionals to help you manage your health.
The capable Allied Health Professionals in this primary care care practice are:
Our Nurse, who can look after many of your health care concerns, and is very involved with preventive health and screening. He also helps to manage chronic conditions. He may be the first health care professional you see when you have an appointment.

Our Clinical Pharmacist, who is our Expert on medications; he can help you understand and manage prescription medications, herbals and over the counter drugs. The Pharmacist also makes recommendations for changes if needed, and manages some chronic health conditions (such as diabetes) and smoking cessation as part of the Team.
Our Dietitian can help you to manage chronic conditions and prevent health problems through improvements in your diet. More information on Dietitians can be found at http://www.cdo.on.ca/en/aboutRD/default.asp
Our Social Worker can help you when you go through difficult periods in your life. She provides counseling to help you cope, and can help you find addtional resources in the community.
You can see our Pharmacist, Dietitian or Social Worker at this location; all appointments require a referral, so please speak with us if you feel you would benefit from their services.
There is a laboratory in suite 706, right beside the office; lab hours are 8:30 am to 4:30 pm, Monday to Friday (closed for lunch between 12:45 and 1:30). Diagnostic Imaging (XRs and Ultrasounds) is located on the 8th floor, suite 804; there is a pharmacy on the main floor.
The office is at 240 Duncan Mill Road on the 7th floor. The office is easily accessible by Public Transit: from the Don Mills subway station, take the #25 bus Southbound; it will bring you to the corner of Don Mills and Duncan Mills, and it is a 5 minute walk to our office. Alternatively, from the York Mills Subway station, take the #122 bus; it stops at 255 Duncan Mills, which is the next building over. There is paid parking at the building; please make sure that you get your parking tag at one of the vending machines, and leave it on your windshield.

Office Hours
After Hours Care
Recommended Medical Sites
Interests and Additional Information

The office is open Monday to Friday; we are closed for lunch from 12:30 to 1:30. The hours are
| | |
| --- | --- |
| | Monday 8 to 5 |
| | Tuesday 8 to 5 |
| | Wednesday 8 to 5 |
| | Thursday 8 to 7 |
| | Friday 9 to 3 |
These are the times available for appointments with Dr Greiver:
| | |
| --- | --- |
| | |
| | Tuesday 9 to 5 |
| | Thursday 9 to 7 |
I spend two days a week working on research projects, and therefore cannot be at the office that day.


If you need to be seen urgently in the evenings or on weekends, our After Hours Clinic is located at Bayview Village (Bayview and Sheppard), besides Loblaws. The phone number of the Clinic is 416-491-6338; you do not need to make an appointment, and I will receive a report. The hours are:

| | |
| --- | --- |
| | Weekdays 5 pm to 8 pm |
| | Weekends and holidays 10 am to 8 pm |
The phone number for our Telephone Health Answering Service is 1-866-553-7205 (available 5 pm to 9 am weekdays, and 24 hours weekends and holidays). More detailed information on After Hours and Urgent care can be found at my After Hours Page. As well, the Ministry of Health and Long Term Care maintains an on-line database of health care options.

These are some of the sites I would recommend if you wish to look up medical information:
Medline Plus http://medlineplus.gov (this is a very large, well organized source of patient information)
Health Canada
The Public Health Agency of Canada (a very good Canadian source of health information)
Centers for Disease Control (travel information)
Patient information brochures (excellent brochures from the College of Family Physicians of Canada)


I have an interest in preventive health care , evidence-based medicine, and primary care research. I also believe that Information Technology has a very large role to play in terms of improving patients' care: I have used an Electronic Medical Record since 2006 and the practice is fully computerized. All Team members use a common electronic chart, and there are no paper records at all. I kept an online dairy detailing the implementation of the EMR in this practice at http://drgreiver.blogspot.com/

Michelle Greiver, MD, CCFP, FCFP

My Curriculum Vitae
Information Brochure about my practice
Patient handouts I have written, and forms I find useful in my office