Links
An article on Father Dan Donovan's art collectionat St. Michael's, from the Globe and Mail in 2004.
A home page for a listing of the pieces in Dan Donovan's collection.
What's meant by "the arts"?
Examples
The arts include the visual arts, the performing arts, the media arts, architecture, and literature.  But the term is very hard to define, and all definitions are contested.  In particular, many artists intentionally push the conventional boundaries of "art". 
Two categories
For our purposes, two categories can be distinguished.
The church arts and other religious artistic forms.  These would include church architecture, church furnishings, stained glass windows, textiles such as banners and vestments, communion hardware, paintings, sculptures, and music.  Movies produced by religious organizations, books and booklets for religious education, and billboards could be included here as well.
High art; art defined by arts institutions. These could include visual arts exhibited in galleries and museums of contemporary art, music performed in concert halls, plays performed in 'legitimate theatres', and works discussed in arts periodicals such as Artforum and the New York Review of Books, or by arts critics in the quality press.    
The bifurcation of the church arts and high art
The view of James Elkins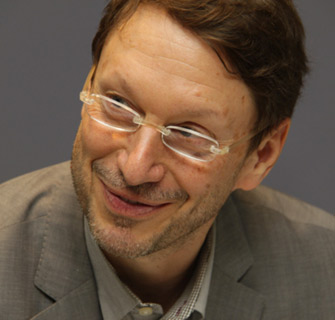 Elkins, a professor at the School of the Art Institute of Chicago, in On the Strange Place of Religion in Contemporary Art (Routledge, 2004), notes the "strange fact" that "there is almost no modern religious art in museums or books of art history".  This fact, he says, "is known to everyone and yet hardly whispered about."
Religion is not talked about in art schools, art departments, or art journals, he says, unless the work is transgressive.  Religious art never wins any competitions.
The basic reason is that modern art is part of the modern project, and the modern project represents a rejection of nineteenth-century values including religion and nineteenth-century artistic structures such as narrative.
What Elkins has in mind is the bifurcation of religion and the kind of art recognized by academic elites and guilds.  Religious art is actually produced in considerable quantity, but it would never be displayed in public museums or discussed in university art departments.
This bifurcation is new.
A museum would be happy to display a picture of Christ by, say, Titian, but not by a modern painter.
The view of Loren Lerner
The same point is made specifically for Canada by Loren Lerner, "Rejection and Renewal: Art and Religion in Canada (1926–2010)", Journal of Canadian Art History 33,2  (2012), 21–48. U of T library users can access this here. At least through the 1960s, she writes, "Art that had anything to do with religion was considered inappropriate for Canadian museums or galleries." Art criticism "relegated religious sentiment to the realm of 'folk' or 'primitive' art."  In May 1971 a CBC television program dared to talk about religion in contemporary art, but only Indigenous, Asian, and African religions, not Judaism or Christianity. 
Lerner suggests, however, that "postmodern" art, which began to achieve popularity in the 1970s, represents a reaction against the narrowness of modernism, and religious themes begin to make a reappearance in that decade.
Concert venues
The Industrial Revolution (beginning in Britain in about the1750s) and an expanding middle class made a market for music. Formerly, composers and musicians were employed under the patronage of aristocratic courts or churches. Now they could be supported by ticket sales to a consumer public. These changes promoted the rise of concert venues for music. In the nineteenth century virtuoso musicians were going on tour and attracting audiences too large for drawing rooms or band shells. The Romantic composers like (later) Beethoven and Berlioz were writing musical pieces for large orchestras. Operas were becoming popular. Large concert halls and opera houses were built.
The result was a division between what was once called "long hair" music (serious music in concert halls), church music, and popular music. By our period, church music didn't appear on popular charts or radio stations, or in concert halls. To be sure, some composers, such as Leonard Bernstein, wrote masses, but these were for concert halls, not churches.
There were, of course, artists who wrote both for sacred and secular audiences. Healey Willan (1880–1968), the long time music director at St. Mary Magdalene Anglican Church in Toronto, was also one of Canada's best known and influential musicians. He wrote mass music for his church, but also symphonies for the concert hall. Lerner in her article identifies several visual artists who accepted commissions from churches, although their work for churches wasn't noticed in the art journals.
The lines blur
After the 1960s, identifiably religious art by Christian artists began to find a place with the wider public and in museums, galleries, performance halls, and arts journals. A huge number of examples could be given; just a few will be identified here.
Drama
Ins Choi, born in South Korea and raised in Toronto, graduated from York University in theatre arts, and from Wycliffe College in theology. His play Kim's Convenience, which evolved into a CBC television series, brought him considerable fame. His most notable Christian work is Subway Stations of the Cross, a series of poems conceived as the pronouncements of a prophetic vagabond, which Choi has performed dramatically. According to the publisher's description,
Inspired by a real-life encounter with a homeless man, award-winning playwright Ins Choi (Kim's Convenience) has originated an astounding work of artistry and imagination in these fourteen spoken-word poems and songs that make up Subway Stations of the Cross. Part public disturbance, part performance artist, and part modern-day prophet, Ins Choi embodies the form of a nameless vagabond who is both beggar and seer. He creates a rich tapestry of the profane and the sacred, the humorous and the banal, the contemptuous and the poignant in both poetry and lyric. It is a holy communion for the urban soul. This relevant and challenging show is captured here in book form with illustrations of subway drawings by Guno Park, whose work has been featured internationally.
Visual arts
Among many examples, Loren Lerner identifies many of the works in Father Dan Donovan's collection, on display throughout the St. Michael's campus at the University of Toronto, especially in Odette Hall. (Not all the works are intended as religious.)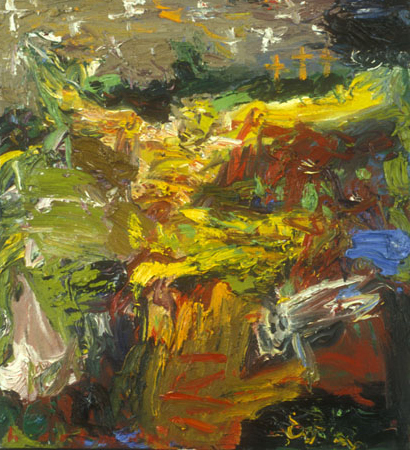 John Hartman. One of the works, for example, is John Hartman's "Redeemer and Child". Hartman is a well regarded Canadian artist whose work is displayed in significant galleries in Canada (such as the McMichael) and internationally, and has toured on exhibition. Father Donovan's comment on this work (excerpted) is as follows:
A landscape painter in an expressionist manner who often includes figures and stories in his landscapes, Hartman has painted a number of works with explicit religious imagery. The large yellow crucified figure in Redeemer and Child is at first glance all but invisible. Once, however, it and the small white outline of a child on the lower right are recognized, it is impossible not to see them.
Norval Morrisseau. Another example is Norval Morrisseau (1932–2007), an Anishnaabe artist from northern Ontario who was the founder of the "Woodlands School" of Canadian art and is identified as a member of the "Indian Group of Seven". He was the first Indigenous artist whose work received a solo exposition at the National Gallery of Canada (2005). A survivor of a residential school where he was sexually abused, he was drawn to art with Christian themes. One interpretation is that he painted these themes as an act of faith,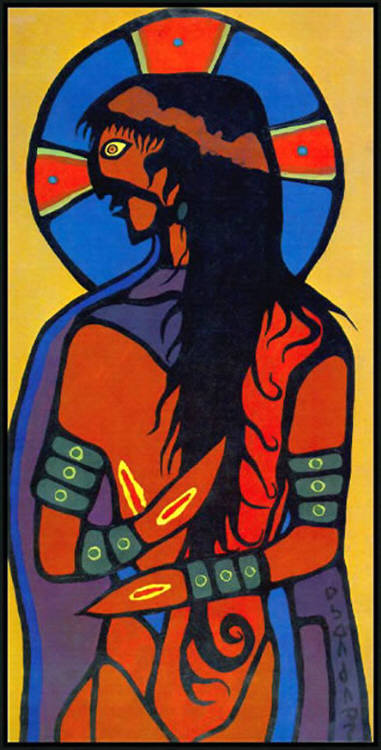 having had in 1972 a vision of Jesus calling him into a new vocation as an artist. Another is that he was exposing the hypocrisy of the white man's Jesus. His "Indian Jesus", at left, became well known through a National Film Board documentary on Morrisseau's life in 1974.
Music
Christian music has crossed over into popular audiences and the concert hall. Since 1994, a Juno for contemporary Christian / gospel music has been awarded. Many Canadian performers of Christian music have attracted a wider following. Not all performers of Christian music are Christian; an example is the High Bar Gang, based in Vancouver, which broke out in 2013 with a recording subtitled "a gospel bluegrass companion".
Christian fiction
Arguably this remains a segregated area.    Janette Oke, perhaps Canada's best-selling author (her works have reportedly sold 24 million copies), is virtually unknown to Canadian academics in literature or Canadian studies, and is not noticed in book reviews in the quality press. However, as the linked article notes, she has been included in George Melynyk's The Literary History of Alberta, vol. 2 (University of Alberta Press, 1999); Melnyk describes Oke as a pioneer in the genre of the Christian or religious novel, the "newest and fastest-growing form of genre fiction in North America today".
Architecture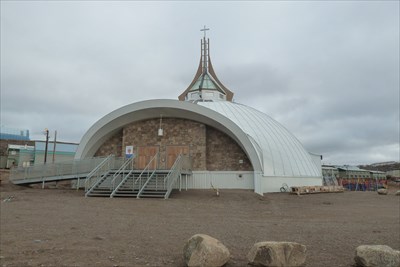 The Gothic dominated Roman Catholic and mainline Protestant churches built between the 1840s and the 1950s, though Romanesque and centre-plan examples can also be found. From about 1960, this identifiably 'churchy' style gave way to designs in an idiom influenced by modern architectural movements. Probably few modern Canadian churches are more widely known than St. Jude's Cathedral in Iqaluit, Nunavut, which has a five-star rating on Tripadvisor (mind you, with only a handful of reviews). It's informally known as "the igloo cathedral".
Mystical Landscapes
This exhibition at the Art Gallery of Ontario in 2016–2017 included European and North American paintings from the 1880s to the 1930s which reflected the artists' sense of union with the transcendent through landscape. Some paintings were explicitly Christian and others were not, but in each case the artist was conceived as a spiritual director helping the viewer connect with God, or perhaps a higher reality with a different name. The audio guide featured commentary by professors at the Toronto School of Theology, and a spiritual instruction by a Franciscan friar. This was a ground-breaking idea for a public art gallery in a largely secular Canadian province; in fact, the AGO had in earlier years banned the word "God" from its museum labels. The response was wildly enthusiastic beyond all expectations; 285,000 visits had been recorded by the time the exhibition closed. It gave evidence that many people had a real longing for a religious or spiritual element in their lives, and that the world of art and the world of religion need be bifurcated no more.