Links
The Graham Library at Trinity College has posted this bibliography of resources of Christian women's history in Canada.
Website for the Women's Inter-church Council of Canada, whose mission is to 'encourage women to grow in ecumenism; to share their spirituality and prayer; to respond to national and international issues affecting women; and to take action together for justice.'
Some websites for denominational women's organizations
Anglican: Anglican Church Women.
Baptists .Canadian Baptist Women.
Evangelical Covenant Church of Canada: women's ministries.
ELCIC: Lutheran Women's Missionary League Canada.
Presbyterian Church in Canada: Women's Missionary Society.
Roman Catholic: Catholic Women's League of Canada. And here's a Wikipedia article with some historical information.
United Church of Canada: United Church Women.
The Free Methodist Church in Canada has a thoughtful historical and theological essay on the leadership of women in their denomination.
The ELCIC has "theses on the role of women" in Lutheranism.
The Mennonite Brethren churches have a discussion of 'ecclesiological aspects' of women's leadership.
This advertises a promotional history on DVD of the Women's Auxiliary / Anglican Church Women.
Lois Wilson (1927- ), ordained in the United Church in 1965, has been active in ministry for the half-century covered by this course. A Lutheran pastor commends a biographical work about her: Janice L. Meighan, Feisty and Fearless: Glimpses into the Life of Lois M. Wilson, United Church Publishing, 2014.
Here's a short history (in doc form) of Catholic women in Canada who have organized to work the ordination of women.
The newspaper for the Roman Catholic archdiocese of Ontario has an article on the possibility of the ordination of women as deacons.
Here in pdf is the table of contents of Elizabeth Gillan Muir and Marilyn FarligWhiteley, Changing Roles of Women within the Christian Church in Canada, U of T Press, 1995,
Here's one list of 100 Canadian Christian woman leaders (lots left out, for sure!).
Here's some information on Rosemary Skinner Keller, Rosemary Radford Ruether, Marie Cantlon, eds. Encyclopedia of Women and Religion in North America: Women and religion, 2006.
Women's roles in churches before 1960
Women were seldom ordained and seldom had any place in the judicatories that made decisions for their denominations. The United Church of Canada was a partial exception, since it had ordained women since 1936 (Lydia Gruchy), but it didn't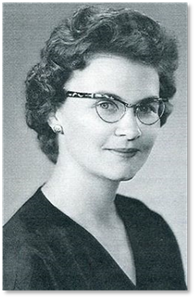 ordained a married woman until 1957 (Elinor Leard, pictured right), and opportunities for women in ordained ministry remained limited even then.But women were active in a great many less visible but very significant roles in the churches. They were teachers, missionaries both in Canada and overseas, social workers, health care workers, fund-raisers, writers, and moral advocates, among other things. Among Protestants they ran women's organizations and mission societies that often functioned more effectively than the 'official' male church. Among Roman Catholics they were conspicuous in religious orders as pastors, teachers, nurses, and leaders of various kinds.
Women's roles since 1960
Anglican Church of Canada
As the 1960s dawned, by far the most important women's organization was the Women's Auxiliary. This was an organization for mission, mission education, and mission fund-raising founded in 1885 as an auxiliary to the official (male-controlled) mission society. In 1931 the W.A. formally enlarged its scope of work to include social service and religious education. It frequently came into conflict with male bishops, male clergy, and male church committees which wanted to control it, but it was largely successful in maintaining its independence until 1959. In that year it surrendered its autonomy in determining overseas mission policy to a joint committee of the M.S.C.C. and W.A. In 1966 it merged with other women's organizations to form the Anglican Church Women. In 1974 the A.C.W., formerly independent, was integrated into the work of the Program Committee of General Synod. The ACW continues today.. Women's religious orders began to be founded in Canada in the 1870s. The first order to survive permanently was the Sisterhood of St. John the Divine, founded in Toronto in 1884-1885. The Sisters of the Church, founded in England in 1863, came to Canada in 1891. Deaconesses were active in the 1960s. They had existed among Canadian Anglicans since 1889. They worked sometimes as church social workers, sometimes as religious educators. When women could be ordained deacons in 1971, most deaconesses were received or ordained as deacons. Women were also serving as domestic and foreign missionaries, as teachers in Indians residential schools, and as pastors in pioneer situations.
The ordination of women. The story of the ordination of women in Canada is told by Wendy Fletcher-Marsh in Beyond the Walled Garden (Dundas, Ontario, 1995). She has written a short, article-sized version here. In 1968 a meeting of the Lambeth Conference (a gathering of Anglican bishops from around the world, meeting every ten years or so in London, England) put the ordination of women squarely on the Anglican agenda. The new Canadian primate, Ted Scott, moved the issue with deliberate speed through theological commissions, meetings of bishops,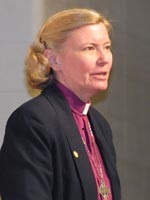 General Synod, and other bodies. In 1975 General Synod agreed to ordain women to the priesthood, and the House of Bishops approved the necessary details over the next several months. The first Canadian Anglican women were ordained priests in February 1976. Victoria Matthews (pictured left) was ordained bishop in 1993.
You may take this link to excerpts from a 1955 study of women's ministries in the Anglican Church of Canada, and to excerpts from a speech at General Synod in 1975 by Professor Joanne Dewart of St. Michael's College on women in the Church. After General Synod approved the ordination of women to the priesthood but before the bishops had moved ahead, a number of (male) clergy formally protested in a "manifesto" published in the Canadian Churchman, the monthly newspaper of the national Church.
The ordination of women in the Presbyterian Church in Canada
As the archives of the Presbyterian Church in Canada narrates on its website, before 1966 Presbyterian women could serve as deaconesses or missionaries, but other full-time work was closed to them. Discussions of the ordination of w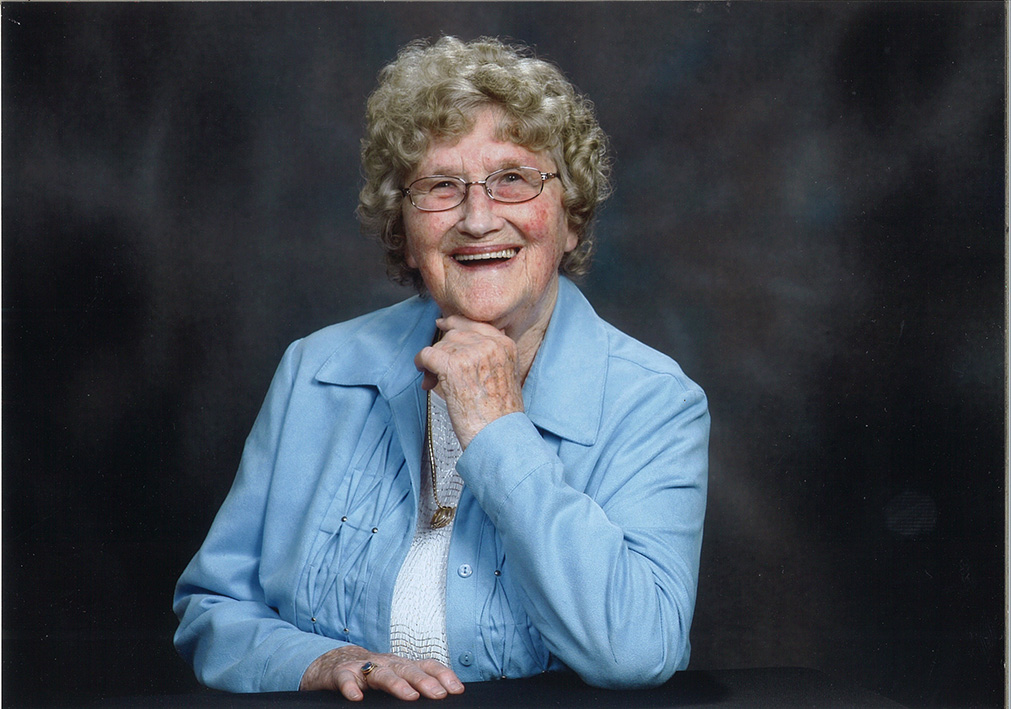 omen gained traction in the 1950s. In 1964 General Assembly received a recommendation that "there can be no distinction in the status accorded men adn women as members of the Body of Christ." In 1966 church law was amended to allow the ordination of women.
Discrimination and dissent continued, however. In the early 1980s a "special task force on the liberty of conscience as it pertains to the ordination of women" was convened, which definitively confirmed the right of women to be ordained. The chair of that task force, Margaret Taylor, pictured right, received an honorary degree in divinity from Knox College in 2016. Margaret Taylor's archival 'fonds' is described in this pdf finding aid.
Feminism among Roman Catholic religious
Christine L.M. G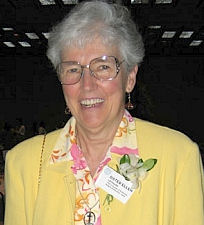 ervais (of the University of Ottawa), "Canadian Women Religious' Negotiation of Feminism and Catholicism," in Sociology of Religion 74(2012): 384–410 (which U of T library users can access here), interviewed 26 Roman Catholic sisters in Ontario. Many reported experiencing tension in being committed to both feminism and Catholicism. Even many of those who didn't identify as 'feminists' supported gender equality, and they, too, experienced tension. Some simply accept contradiction. Some acknowledge a measure of denial. Some found fulfilment in serving as pastors of churches in every way except sacramental. Some attempt to blend or integrate. Some exercise a 'loyal opposition'. Some do more than one of these. The article excluded consideration of those who have left the Church altogether, but studies suggest that this is a signficant number.
Sister Ellen Leonard of the Sisters of St. Joseph of Toronto, pictured left, who has taught theology for decades at the Toronto School of Theology, has advocated for gender equality.