Welcome to jerrymelbye.com
Fellow, American Academy of Forensic Sciences
Diplomate, American Board of Forensic Anthropology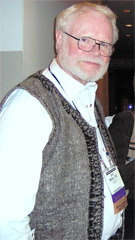 Here you will find a general insight into Dr. Jerry Melbye's background and qualifications as a forensic anthropologist.
Dr. Melbye's general field of general interest is physical anthropology with specialization in human skeletal biology. Some of his research interests include paleopathology and forensic anthropology with field work experience in Washington, Illinois, Colorado New Mexico, New York, Ontario, Labrador, Newfoundland, Yukon, the American Southwest and Egypt.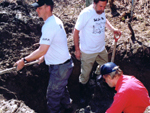 Dr. Melbye rallied the Office of the Chief Coroner for the Province of Ontario, along with the Center of Forensic Sciences in Toronto, to support the launch of a dual Bachelor of Science degree at University of Toronto. The program confers a degree in forensic science combined with one other specialty, such as biology, anthropology, psychology or chemistry. Now in its 15th year, U of T's program owes its existence to Dr. Melbye. Over the years, Ontario police came to rely on Dr. Melbye for his expertise in the identification of victims from skeletal remains. One of Melbye's highest profile cases was the second trial of Guy Paul Morin who was charged with the 1984 murder of nine-year-old Christine Jessop. DNA evidence eventually cleared Morin, who had spent the better part of a decade in and out of jail.
Dr. Jerry Melbye is a Research Professor in the Center for Human Identification, Laboratory of Forensic Anthropology at the University of North Texas, a Diplomate of the American Board of Forensic Anthropology and is a Fellow of the American Academy of Forensic Sciences. He is a member of many professional organizations such as the International Association for Identification, the Texas Division of the International Association for Identification, the Homicide Investigators of Texas, the Paleopathology Association since 1973, the Canadian Association for Physical Anthropology (CAPA), is a consultant to all levels of law enforcement in Canada and the U.S. in cases involving human skeletal remains, and is a distinguished member of the Round Table Group, a global consortium of expert witnesses based in Washington, DC.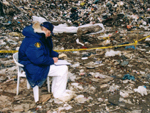 While working in Texas, one of Dr. Melbye's main goals was to develop a forensic anthropology graduate and undergraduate program at the university level, and to create a forensic anthropology open-air human decomposition facility. His efforts culminated on September 26, 2008 when they celebrated the grand opening of the Forensic Anthropology Research Facility which is built on 20 acres of land in Texas hill country. The main purpose of this Facility is to provide exceptional graduate level training in all facets of forensic anthropology, including methods and applications of forensic techniques, advanced human osteology, innovative decomposition research to determine time since death estimations, and the opportunity for students to assist with actual forensic casework. Most importantly, the Facility serves as a regional training ground for forensic scientists and crime scene investigators. This type of research is necessary to determine PMI estimations in a various ecological zones, and to help police and other experts understand the roll that climate plays on the human decomposition process.
Dr. Melbye was also involved in the study of the famous accidental Mummies of Guanajuato. He was invited to Mexico by special invitation from the former Mayor of Guanajuato, Dr. Eduardo Romero Hicks to study the mummies to scientifically determine why this mummification process took place. He played an integral part in developing a 10,000 square foot museum exhibit which debuted at the Detroit Science Center in October 2009 and will travel to other major museums throughout the United States from 2010-2012. This exhibit features 36 accidental mummies by combining science, history and cultural anthropology to take the visitor back in time to a Mexican city over 100 years ago where deceased residents naturally mummified in their crypts.
Dr. Melbye's latest project is to assist in the recovery of a Spanish galleon that sunk over 200 years ago, in Davy Jones' locker off the coast of Chile, embanked in the sands of Playa La Trinchera in Curepto. The shipwrecked vessel is estimated to contain a treasure of $30 dollars U.S. The ship's treasure, which is believed to include gold coins, fine glassware, guns of war, furniture, and clothing decorated with gold and various jewels, and possibly the remains of over 200 sailors.