Profiles of our Graduate Students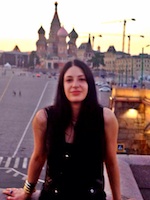 Alia O'Brien (PhD year 5) is perpetually curious about the ways in which the categories of "sacred," "everyday," "public," and "private" are differently felt and conceptualized among North American Muslims, especially through sound and movement. A number of themes fold into this point of inquiry, including gender, performativity, transnationality, and affect. For her SSHRC-supported dissertation research, Alia will engage with some of these ideas in the context of the ritual activities at a Turkish Sufi dergah here in Toronto. Beyond the library/computer screen, Alia has studied the Middle Eastern nay in Ramallah, Boston, and Toronto, and has toured internationally as a heavy metal flutist.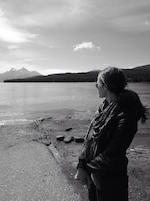 Allison Sokil (PhD year 3) spends much of her time engaged in popular and academic discourse surrounding the historical and contemporary intersections of music technology, pop culture, and gender. As part of her MA degree at the University of Alberta (2015), her SSHRC-funded research explored contemporary expressions of gender in traditional music revivals on the island of Rhodes, Greece. In pursuing her PhD, she will confront the multifaceted realities of gender and power in her own locality through an examination and critique of the silencing of women in the technological fields of music-making, exploring women who contest and subvert this silencing in creative and innovative ways locally and globally.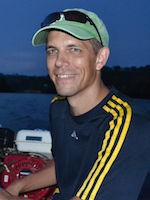 Andrew Janzen (MA year 2) grew up in Malaysia and holds a BA in Intercultural Studies. Since 2006, he has lived and worked as a teacher among indigenous peoples in Brazil.  Through personal relationships with indigenous musicians, he has increasingly become involved with musical and artistic projects that help to maintain and communicate cultural identity. Approaching ethnomusicology from a background in cultural anthropology, he is interested in issues relating to identity and race, the material culture of music, indigenous peoples and the use of music in resistance and co-opting power. While in Toronto, Andrew plans to experience as many jazz and world music concerts as possible and looks forward to meeting musicians from all kinds of musical traditions. When not studying, he enjoys reading, playing the Native American flute and spending time with his wife and two kids.
Chris Greencorn (MA year 2) holds a BA in Canadian History and Music, and is interested primarily in the experience of the singer-songwriter in Canada. In particular, he focuses on how that experience intersects with cultural heritage and protectionism. Presently his objective is to study the revision of Canadian content regulations and the interaction between artists, the federal government, and organizations like SOCAN. His academic interests are the direct result of an upbringing at the centre of one of Canada's premier folk festivals. Chris is a self-taught performer on half a dozen instruments and has a special predilection for the pedal steel guitar. He has also worked as a festival coordinator, in performer relations and artistic direction, during intersessions throughout his BA.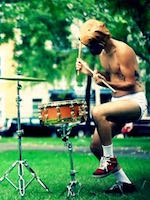 Dennis William Lee (MA year 2) is interested in intersections of music theory and cultural analysis. Specific research topics include transgressive musical subcultures in Indonesia, particularly death metal scenes, and post-tonal concepts in classical and non-classical music, again notably in death metal, grindcore, and other extreme metal subgenres. As a multi-instrumentalist and composer, he has worked in metal, as well as jazz, punk, reggae, hip-hop, top-forty pop, and experimental music, recording several albums and touring internationally.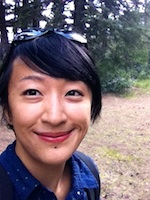 Yun Emily Wang's (PhD year 6) research examines the ways in which people use sound, speech, and music to mediate the construction, maintenance, and experiences of the quotidian spaces they consider "home," particularly when living transnationally. Supported by a Joseph-Armand Bombardier CGS from SSHRC, Emily's ethnographic dissertation includes case studies on the queer diaspora, circular migrants, a geriatric center, and an ethnic mall in Chinese Toronto. She has presented parts of the dissertation and a secondary project (on everyday sounds and the public space in Taiwan) at conferences of the Society for Ethnomusicology, IASPM-US and -CA, American Anthropological Association, and others. Emily holds prior degrees from New York University and the University of Rochester. She is also the winner of SEM's Wong Tolbert Prize for her 2015 paper "Exercising Citizenships: The 'Use' and 'Re-use' of Radio Calisthenics in Contemporary Taiwan" as well as the Association for Chinese Music Research's Barbara Barnard Smith Prize (2014). She performs with an experimental indie band, and only plays the Chinese erhu with appropriate critical distance.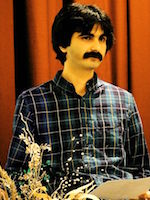 The main theme of Hadi Milanloo's (PhD year 2) research is music and women's rights movements in Iran. In particular, his work at U of T focuses on the music and lives of female instrumentalists who perform Iranian classical music in Tehran, despite the fact that their most basic professional rights as musicians are not fully recognized. Hadi aims to explore how music, gender, and resistance/resilience are intertwined in Iran. As a male researcher working with female participants, he also investigates the negotiative nature of ethnography and the ways through which it helps to balance the power dynamics inherent in any ethnographic enterprise. In his MA thesis (Memorial University 2016) Hadi studied the musical life stories of eight Iranian women who migrated to Canada. Outside of the university, he is a setār player, an alumni of the Music department of the University of Tehran (U of T?!), where he received his BMus in Iranian traditional music and his first master's degree in Art Studies.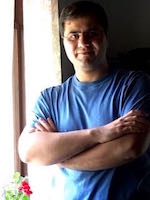 Hamidreza Salehyar (PhD year 2) explores various forms of musical expression in the urban areas of Central Iran. His doctoral research concerns the mourning rituals of Muharram in present-day Tehran, investigating relations between social memories and cultural identities, as negotiated through changing forms of these musical practices. While focusing on religious music, he is also interested in the ways the discourses of modernity and globalization have conditioned Iranian musicians' conceptions of Iranian classical music. His MA thesis in Ethnomusicology from the University of Alberta (2015) examined how multiple articulations of Iranian nationalism, manifested in discourses on Iranian classical music, encouraged the development of revivalist ideas in pre-1979 musical society. His academic research also benefits from his training in Iranian classical music under prominent Iranian master-musicians. He plays the tar, holding a BMus in Iranian Instrument Performance from the University of Art in Tehran.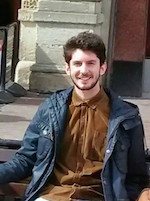 Jack Harrison (PhD year 3) is from the UK. He holds a B.A. in Music from the University of Cambridge and an M.Mus in Advanced Musical Studies from Royal Holloway, University of London. Jack is interested in the way people move their bodies to music: his master's dissertation explores the relationship between music, movement and identity in artistic gymnastics floor exercises performed at international competitions. While in London, Jack began learning the erhu, continuing his studies at the Yunnan Arts Institute in Kunming, China. He also enjoys choral singing, as well as arranging and playing pop covers as a cellist in the UK-based Mercian String Quartet.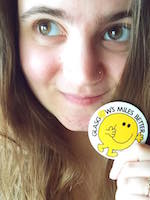 Jennie Horton (MA year 2) holds a BA in Music from the University of Chicago and is mainly interested in music and state relationships. More specifically, her research focuses on the ways in which governments and citizens utilize music as a means to a political, social, or economic end. Previous work in this area includes her BA thesis which investigated, in part, how state-initiated music programming aided in the revitalization of British post-industrial cities such as Liverpool, Sheffield, and Glasgow. Though the United Kingdom and Scotland in particular are her geographic areas of interest, she looks forward to exploring these larger themes in Toronto and Canada. In addition to finding the best study spaces in the library, Jennie enjoys playing bass and listening to podcasts.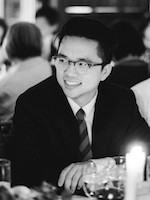 Jonathan Wu (MA year 1) grew up in Hong Kong and earned a BA with focuses in English, History, and Ethnomusciology from the University of Toronto. He is interested in the theme of music in diaspora and explored this subject as an undergrad, conducting a historical and ethnographic research project on the Chinese United Dramatic Society, one of Toronto's oldest Chinese music groups. Accompanying his academic pursuits, Jonathan is active in performing, producing and recording a diverse variety of music projects.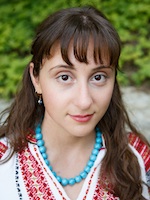 Nadia Younan (PhD year 4) is a Canadian-Assyrian-Italian. For her M.A. (York University '13), she conducted fieldwork with an Italian wind band in the Greater Toronto Area, researching the significance of the band to the Italian festa tradition, and how this particular medium of music ascribes feelings and ideals of home to the Italian immigrant community. In diverging to work with the Assyrian diaspora, Nadia is currently investigating the relationship of popular music to national identity, particularly regarding stateless nations. She is also considering how the technological mediation of such music delineates transnational sonic borders, and reasserts a national consciousness among displaced communities.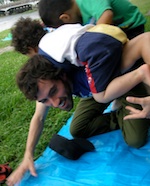 Nate Renner's (PhD year 5) research concerns the contemporary and traditional music and dance of Japan's indigenous Ainu people. For years he studied relationships between music and everyday speech, which he believes are available to people in the formation and expression of identity. More recently — after one year of fieldwork with Ainu people in Hokkaido, Japan — Nate shifted his focus to include relationships between music and the physical environment. Some of the questions Nate ponders are: Can certain ontologies of music and ways of conceptualizing sound engender particular relationships with the environment? Can the music of contemporary indigenous peoples like the Ainu inform the institutions of colonial states on issues such as the environment, law, and politics?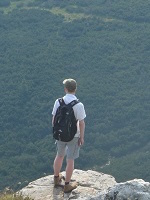 Nick Goode's (PhD year 3) research focuses on relations between space and sociality in public and private, and the ways in which music can reconfigure and contest those relations.  His master's thesis (Oxford) explored these issues in the context of mobile clubbing and similarly headphone-based performances, and he aims to further this work by studying guangchangwu or public square dancing in urban spaces in China. He has previously studied music and sound in more divergent contexts, having investigated spiritual possession in musical performance, the sound of the War in Afghanistan on film, and the political ecologies imagined by Björk's multimedia stage shows.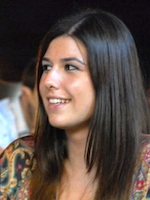 Nil Basdurak (PhD year 4) is from Turkey. She holds an M.A. in ethnomusicology from Istanbul Technical University-Center for Advanced Studies in Music, and has a background in economics. Nil is interested in various interdisciplinary areas of study including music cognition, change in music, oral traditions, music and the cultural construction of memory, and music and politics (music of frontiers). In terms of music traditions, she is interested in the regions of the Balkans, Anatolia and Caucasia. She wrote her M.A. thesis on the Hemshin music tradition in the Black Sea Region of Turkey concerning the issues of oral tradition and musical memory. In order to get involved directly in the traditional process of teaching and learning, Nil also started to learn how to perform tulum (the Hemshin bagpipe) as a participant observer while she was doing her fieldwork. She is still trying to improve her playing by self-teaching. For her PhD studies, she focuses on the cultural construction of musical memory in the Black Sea region, taking into consideration patterns of migration and social change.
Sangah Lee (PhD1) holds a BA in Korean music from Ewha Womans University (South Korea) and a MA in ethnomusicology from University of Hawai'i at Mānoa. Her research interests include music and violence, protest, and social critique, particularly of East Asian societies. In her MA thesis, she explored the role of p'ansori as social critique and counter-public sphere in South Korea's political scenes, by linking to a conscious use of tragic ethos and vulgarity ascribed to this genre. Her current research examines the power, efficacy, and reshaping of traditional vocal music in socio-political movements both in Korea and its diaspora. As a Korean music specialist, she has been actively engaged in performances, workshops and talks on p'ansori, gayaguem, and samulnori. She also enjoys playing piano and ukulele.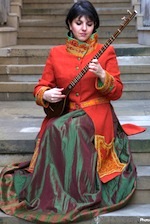 Sepideh Raissadat (PhD year 4) focuses her research on how the vocal pedagogy in Iran has evolved through major contemporary socio-political events, with a particular interest in the situation of female vocalists. Her approach is deeply related to her personal experience. As a Persian classical vocalist and musician, Sepideh began her recording career at the age of 18. She was the first female vocalist to have a solo public performance in Iran (March 2000), which is no small feat considering singing in public has been forbidden for women in her native Iran since the 1979 revolution. Sepideh has had numerous performances in Europe and North America and has garnered many invitations by prestigious institutions, including UNESCO, the Vatican and international media such as BBC (watch a BBC Persian documentary here) and RAI. She studied with many of the greats of the Persian classical music — such as Parisa, P. Meshkatian and M.R. Lotfi — and holds a B.Mus degree from the University of Bologna and an MA in Ethnomusicology from the University of Toronto.