Ryan McClelland
Professor of Music Theory
Associate Dean, Academic & Student Affairs
Faculty of Music, University of Toronto
My research areas include rhythmic-metric theory, Schenkerian analysis, and performance studies. This site provides some information on research activities and course offerings.
Other information (including email address) can be found on my UofT Music web bio, UofT Music Theory, and UofT Music.
Book
Brahms and the Scherzo: Studies in Musical Narrative. Ashgate, 2010 (320pp., 173 musical examples).
<![if !vml]>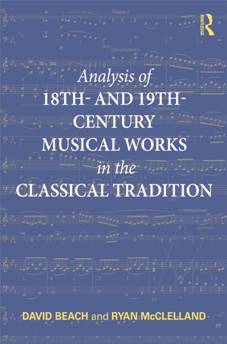 <![endif]>.......<![if !vml]>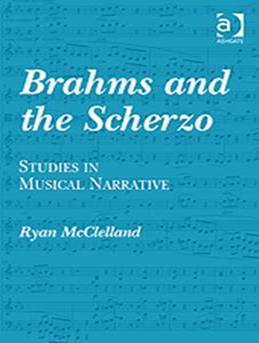 <![endif]>
Textbook
Analysis of 18th- and 19th-Century Musical Works in the Classical Tradition. Co-authored with David Beach. Routledge, 2012 (368pp., 150 musical examples).
Peer-Reviewed Articles
"Brahms and the Principle of Destabilised Beginnings." Music Analysis 28/1 (2009): 3–61.
"Discontinuity and Performance: The Allegro appassionato from Brahms's Sonata Op. 120, No. 2." Dutch Journal of Music Theory 12/2 (2007): 200–14.
"Metric Dissonance in Brahms's Piano Trio in C Minor, Op. 101." Intégral 20 (2006): 1–42.
"Extended Upbeats in the Classical Minuet: Interactions with Hypermeter and Phrase Structure." Music Theory Spectrum 28/1 (2006): 23–56.
"Teaching Phrase Rhythm through Minuets from Haydn's String Quartets." Journal of Music Theory Pedagogy 20 (2006): 5–35.
"Tonal and Rhythmic-Metric Process in Brahms's Early C-Minor Scherzos." Intersections: Canadian Journal of Music 26/1 (2005): 123–47.
"Brahms's Capriccio Op. 76, No. 8: Ambiguity, Conflict, Musical Meaning, and Performance." Theory and Practice 29 (2004): 69–94.
Invited Articles
"Form and Hypermeter in Brahms's 'Tiny' Scherzo for the Piano Concerto Op. 83." The American Brahms Society Newsletter XXVI/1 (2008): 1–5.
"Performance and Analysis Studies: An Overview and a Bibliography." Indiana Theory Review 24 (2003): 95–106.
Essays in Collections
"Half-Diminished-Seventh Openings in Brahms's Lieder." In Explorations in Schenkerian Analysis, ed. David Beach and Su-Yin Mak. University of Rochester Press, forthcoming 2016.
"Tonal Recollections in Schubert's Late Instrumental Music." In Schubert's Late Music in History and Theory, ed. Lorraine Byrne Bodley and Julian Horton. Cambridge University Press, forthcoming 2016.
"Sequence as Expressive Culmination in the Chamber Music of Brahms." In Expressive Intersections in Brahms: Essays in Analysis and Meaning, ed. Heather Platt and Peter H. Smith, 147–85. Indiana University Press, 2012.
Conference Proceedings
"Brahms's Op. 111 and the 8-line Urlinie." In Essays from the Fourth International Schenker Symposium, Volume 2, ed. L. Poundie Burstein, Lynne Rogers, and Karen M. Bottge, 159–86. Olms, 2013.
"Hypermeter, Phrase Length, and Temporal Disjuncture in Schubert's Klavierstück D. 946, No. 3." In The Unknown Schubert, ed. Lorraine Byrne Bodley and Barbara Reul, 157–75. Ashgate, 2008.
Other Publications
Review of Eric McKee, Decorum of the Minuet, Delirium of the Waltz: A Study of Dance-Music Relations in 3/4 Time. Nineteenth-Century Music Review 11/1 (2014): 122–27.
Review of Peter Smith, Expressive Forms in Brahms's Instrumental Music. Theory and Practice 31 (2006): 209–24.
Translation of Márta Grabócz, "Les théories du récit d'après Paul Ricoeur et leurs correspondences avec la narrativité musicale," in Le récit et les arts (Paris: L'Harmattan, 1998), 75–98. Published as "Paul Ricoeur's Theories of Narrative and Their Relevance for Musical Narrativity," Indiana Theory Review 20/2 (1999): 19–39.
Insight Grant from Social Sciences and Humanities Research Council of Canada (SSHRC)
Project: "Performing Metric Dissonance in the Music of Johannes Brahms"
Duration: April 1, 2013–March 31, 2017
Standard Research Grant from Social Sciences and Humanities Research Council of Canada (SSHRC)
Project: "The Scherzo-Type Movement in Nineteenth-Century Austro-German Music"
Duration: April 1, 2006–March 31, 2010
Connaught Award (University of Toronto)
Project: "Issues in Rhythm and Meter in Tonal Music"
Duration: July 1, 2004–June 30, 2006
Cross-listed courses:
TMU401 / MUS3101 (Seminar in Schenkerian Analysis I) [fall 2005–10, fall 2012–15]
TMU404 / MUS3404 (Extended Tonal Techniques in Twentieth-Century Music) [winter 2013]
Graduate courses:
MUS3102 (Seminar in Schenkerian Analysis II) [winter 2006, winter 2007, winter 2010]
MUS3208 (The String Quartet in the Twentieth Century) [winter 2006, fall 2007, fall 2009, fall 2014]
MUS3238 (Instrumental Music of Robert Schumann) [winter 2008]
MUS3306 (Pedagogy of Music Theory) [winter 2011]
MUS3308 (Introduction to Research in Music Theory) [fall 2005]
MUS3309 (Brahms: Symphonies and Chamber Music) [winter 2007, fall 2008, fall 2012, winter 2016]
MUS3412 (Theories of Rhythm and Metre) [winter 2005, fall 2006, winter 2009, fall 2013]
MUS4200 (Seminar in Music Literature) [fall 2010]
MUS4615 (Analysis & Performance Practices of Twentieth-Century Music) [winter 2006, winter 2007, winter 2010]