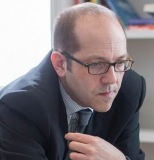 Ron Levi is the holder of the George Ignatieff Chair of Peace and Conflict Studies at the University of Toronto, where he is an Associate Professor at the Munk School of Global Affairs and the Department of Sociology. He is cross-appointed to the Faculty of Law and the Department of Political Science. He is also a Permanent Visiting Professor at the University of Copenhagen, and a faculty affiliate with the Weatherhead Research Cluster on Comparative Inequality and Inclusion at Harvard University.
Trained in law and in sociology, Levi focuses his research on the internationalization of law, and on the social and political dimensions of responses to crime and atrocities. He launched and directs the Global Justice Lab in the Munk School, focusing on justice systems under stress and strain. In developing these research agendas, he was a Fellow and Scholar in the Successful Societies program of the Canadian Institute for Advanced Research for seven years. He was made Chevalier in l'Ordre des Palmes Académiques by the French Government in 2017, has been awarded the Ludwik and Estelle Jus Memorial Human Rights Prize, and has served as Scholar-in-Residence for Holocaust Education Week.
Professor Levi has served in several academic leadership positions at the University of Toronto. He is currently the Director of Global Strategy for the Munk School of Global Affairs. Prior to this, he served as Deputy Director of the Munk School, as Director of the professional Master of Global Affairs (MGA) Program, as Director of the Trudeau Centre for Peace and Conflict Studies and its undergraduate program in Peace, Conflict, and Justice, and as Graduate Coordinator for the MA and PhD programs at the Centre for Criminology and Sociolegal Studies. Currently serving as a Member of Governing Council, he has served on the University of Toronto's Academic Board, as Vice-Chair of the Planning and Budget Committee, and as a Chair of the Academic Appeals Committee. Outside the university, he has served as an elected Council Member for the Sociology of Law section of the American Sociological Association, and is currently the Secretary-Elect of the Law and Society Association .
Professor Levi teaches courses on justice meausurement, global violence, international justice and atrocities, law and society, the sociology of law, and a Genocide Reading Group (GRG). He is a recipient of the UTSU/APUS Undergraduate Teaching Award for Teaching Excellence at the University of Toronto.
Levi attended law school at McGill University, where he was trained in both civil law and common law. After completing his master's degree in law at the University of Toronto, he pursued graduate study in sociology at Northwestern University and completed his doctoral dissertation in law at the University of Toronto, where he was awarded the Alan Marks medal.