Saturday, July 16, 2005
3:12 am EDT. 0 km
We've just dropped off Kath, and with matching yellow shirts we're leaving the bright lights of the city behind. Ten thousand-odd kilometres await us. Before my two hours of sleep last night I admitted to Kath that I was a tad nervous, but that anxiety has given way to a giddy excitement. I wonder when I'll start feeling tired. It's strange - there are still people walking home from the bars and clubs. Anyway, the journey has begun and we're most certainly ready to go.
---
5:34 am EDT . 237 km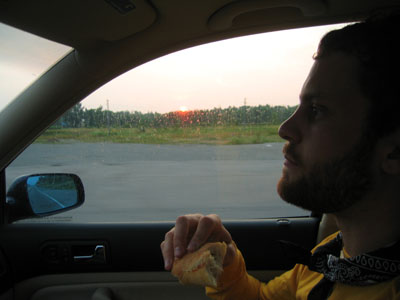 First moose sighting. What looked like a mother and her two youngsters were nibbling grass in a bog on the west side of Highway 69 just north of Parry Sound. The sun is just barely up over the eastern horizon. The stars were quite spectacular once we reached the wilderness north of Barrie . The highway is now two lanes, undivided, and the terrain looks much like what I expect it to be for the next two days. Aaron and I just sang along to Avril Lavigne on the radio. Jesus.
---
5:51 am EDT. 264 km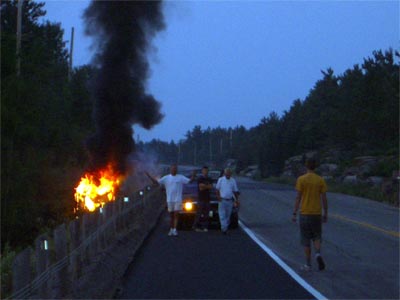 Holy shit. Came over the crest of a hill and saw a rather large plume of smoke off to the side of the road. As we approached we noticed a car flipped over in the ditch, completely engulfed in flames! A car had stopped already, and one gentleman was sitting on the back bumper of the parked car tending to a small wound on his head. We pulled over to see if everything was okay, which it was, and were informed that all three men in the car had gotten out safely. They were part of a two-car convoy on a hunting/fishing trip from Ohio . He asked us where we were (just north of Pointe au Baril) and passed on the info we gave him to the 911 dispatcher. Wow. Less than 300 km from home and we've already encountered three moose and a raging, potentially fatal car fire. What other outrageous adventures awaits us further down this crazy highway? Aaron doesn't seem concerned and is eating a baguette for breakfast.
---
7:00 am EDT. 380 km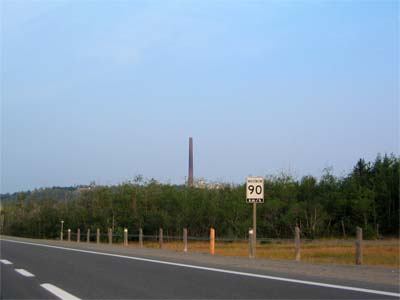 We attempt a diesel refuelling on the outskirts of Sudbury, but fail. I suggest ploughing on and hope we don't run out. There are tiny white birch trees and scrubby brush sprouting from the rock all around us. Whoever described Sudbury as a 'moonscape' was spot on. A massive smokestack looms in the distance. There's a tinny smell in the air. The next town we'll pass through is called 'Lively, Ontario' - an accurate description of the mood in the car? Hardly. We're now on Highway 17.
---
11:08 am EDT. 679 km
Driver switch after stopping in Sault Ste. Marie for a car show and some carrots by the waterfront. We're held up on our stroll through the park by an elderly couple driving a VW sleeper van which won 2nd place in a what appears to have been a particularly uncompetitive car show in Milwaukee . I take photos of some aging signs adorning decrepit buildings on the sparsely populated streets. We briefly get lost before relocating the 'Highway 17 North (West) East' sign. I'm rather nervous about Matthew's relative inexperience behind the wheel of this powerful diesel machine.
---
11:58 am EDT. 765 km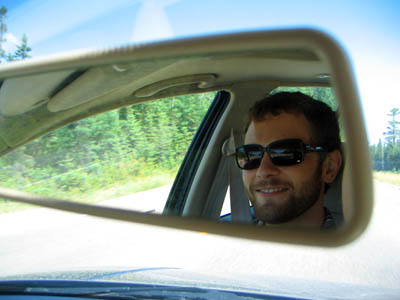 Disaster strikes. Due to my own flatulence I try to roll down the passenger window. Something breaks, the window falls open completely, and becomes unresponsive to mechanical and physical efforts to raise it. "What do we do?" Matthew asks. "Push on", I say. The mood is lightened by the sunshine and spectacular views of the eastern shore of Lake Superior . Serious wind drag will dramatically reduce the TDI's world-renowned fuel efficiency.
---
12:15 pm EDT. 784 km
We stop at the Agoma Bay scenic lookout, partly for the view, but also to assess the increasingly worrying window problem. It is resolute in its broken-ness. A crunchy sound emanates from the motor, accompanied by a hint of the noise of broken glass. Mood is lightened by crystal clear (well, turquoise) lake water. Here's hoping there's some respite in Wawa, some 111 kilometres away.
---
1:59 pm EDT. 905 km
Newsflash: Wawa is a shithole. Our guidebook states rather matter-of-factly that "Wawa is in an economic crisis since the iron mine shut down in 1998". Well, not only do they not know how to mine iron ore, but they can't fix a car window either. 'Pete's Garage' was open but didn't have a mechanic on duty (?). The guy at the Canadian Tire auto department couldn't help us because he had four hours of work lined up already. I also overheard him saying to his colleague that he didn't know what an alternator was (!). Christ. Some mechanic. So we're leaving this godforsaken place where the main industry appears to be giant statues of Canada Geese. We're now heading for Marathon, the final town on our first leg, to see if we can do something about this window. We're both nervously wondering if we'll meet our demise this evening after a menacing black bear climbs through our gaping car window in search of hummus and chocolate soy milk.
---
2:51 pm EDT. 1000 km
One thousand kilometres. Wowzers. By coincidence, the 1000 km mark was right at the edge of town in White River, a town that claims to be both the home of the bear cub the inspired Winnie the Pooh as well as "The Coldest Spot in Canada". Not sure about that one - I'm going to ask someone in Winnipeg tomorrow what they think of that claim. The passenger window still won't go up.
---
2:57 pm EDT. 1009 km
All of a sudden the landscape has turned barren. Like, really, really barren. A sign indicates that a 'person-caused' fire destroyed 39,000 hectares of forest in May 1999. It looks very creepy - thick boreal forest one moment, and then bare, rolling hills for as far as the eye can see.
---
5:00 pm EDT. 1093 km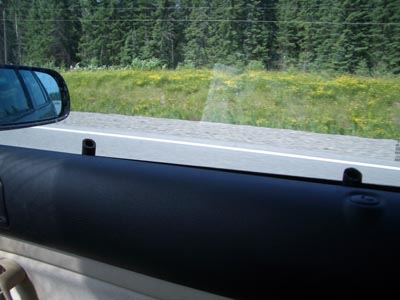 We just spent an hour at a garage in Marathon. The window is fixed, although by 'fixed' we mean wedging three pieces of rubber tubing between the glass and the door frame so it can't slide back down. Let's hope it's bear-proof.
---
Sunday, July 17, 2005
9:07 am EDT. 1118 km
Pukaskwa National Park has to be one of the most beautiful places I've ever seen. It's made up of hundreds of kilometres of untouched coastline along the north shore of Lake Superior , with soft sand beaches and purple sunsets. Oh yeah - and lots of mosquitoes. Most of it is remote wilderness, but there's a small, well-kept campground near the north entrance at Hattie Cove. We had a dinner of chilli dogs and veggie burgers last night. After going on a fantastic hike out to the beach at Horseshoe Bay and the tip of Hattie Cove, we relaxed by a small fire and turned in pretty early. I had a really great sleep, woke up around 7:30 this morning and immediately began packing up the site. We quickly encountered out umpteenth problem of the trip, and we're only starting Day Two. After cooking a great meal last night, our stove doesn't work. So our plans for oatmeal and hot coffee have been dashed. Frustrated, hungry, and wondering what we're going to cook with once we reach Saskatchewan, we depart for Thunder Bay and Winnipeg. Prairies, here we come.
---
12:27 pm EDT. 1337 km
We stop at Ouimet Canyon, forty kilometres west of Nipigon. There are 150-metre sheer cliffs down to a canyon floor containing rare fauna from the sub-arctic vegetation zone one-thousand kilometres to the north. It's very hot and sunny out. I take my shirt off. Aaron runs over a mouse with the car, the first casualty of the journey. I briefly consider buying a dog as we pass a sign advertising Border Collie puppies (my favourite breed) for sale at the side of the small road leading from Highway 17 to the canyon. But we have enough problems taking care of ourselves in the car, let alone a small animal, so I decide against it.
---
1:15 pm EDT. 1449 km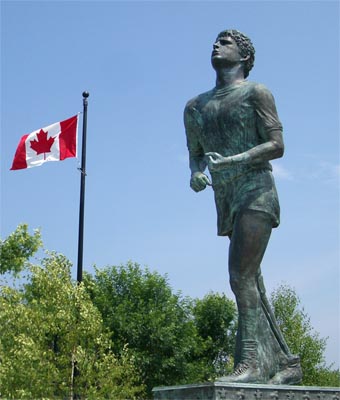 Terry Fox Memorial Lookout marks the place where he stopped his run in September of 1980. That Terrence Fox was one hell of a dude. We're just outside Thunder Bay and there are lots of stoplights surprising us as we come out of turns.
---
2:15 pm EDT. 1550 km
A sign tells us that we've just entered the Arctic Watershed - from here all streams and rivers flow north to the Arctic Ocean .
---
1:21 pm CDT. 1557 km
Time for celebration. After stressing all morning about being behind schedule (despite waking up at 7:30), an unexpected surprise: Central Daylight Time. We've just gained an hour, although a late arrival in Winnipeg looks inevitable.
---
3:57 pm CDT. 1789 km
Just made sandwiches on a picnic table at Aaron Provincial Park near Dryden. The park's namesake left the car door open and, after an incredibly strong gust of wind, our belongings are now covered with a fine layer of Northwestern Ontario dirt.
---
4:45 pm CDT. 1869 km
There have been Inukshuks everywhere on our drive. It's pretty remarkable, yet also quite lame. They've probably been constructed by the same people who profess their love to girlfriends in spray paint on any flat surface they can find on the side of the highway.
---
5:43 pm CDT. 1945 km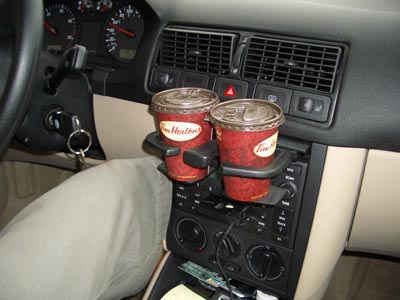 We almost run out of fuel, literally, and are forced to take a detour into Kenora. It's actually a cute little town with a pretty waterfront and lots of Tim Hortons. We see two cute girls get out of a car with Manitoba plates, so we're pretty excited for the border. We drink our first (!) coffees of the trip.
---
6:22 pm CDT. 1996 km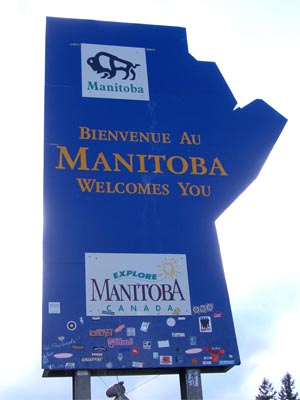 Manitoba. It took us almost twenty hours of driving just to get out of our home province. Strangely enough, we cross the border and the sun starts shining.
---
7:30 pm CDT. 2123 km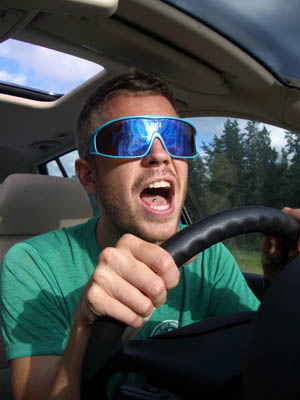 We've reached the longitudinal centre of Canada. Winnipeg is less than ten kilometres away. The dense forests and plentiful lakes of Northern Ontario have completely disappeared in the span of thirty minutes. We're now surrounded by flatness like I've never seen - a 360-degree horizon. The sun is shining brightly.
---
Monday, July 18, 2005
8:34 am CDT. 2154 km
"One Great City!" proclaims the sign that welcomes visitors to Winnipeg. The last time I was here I was quite young. There are tree branches littering the roads throughout the city. Aaron and I got in at around 8:30 and spent a couple of hours walking around downtown - along Broadway, past the legislature and its ever-vigilant Golden Boy, and on to the Forks National Historic Site where the Red and Assiniboine Rivers meet. It's said that people have been meeting at the Forks for six-thousand years, yet Aaron and I find it mostly empty on a pleasant Sunday evening. Some meeting spot. Veggie burgers (again) at Cousin's Deli, then back to the Hostel for the night. We're told by the guy working the front desk at the hostel that the worst thunderstorm in decades struck the night before we arrived. It's pretty chilly this morning, and we're heading to Mountain Equipment Co-op to look for a new stove before continuing across the prairie. Mosquitoes are everywhere. It's pretty terrible that you can be in a completely urban setting and still feel like you're trekking through a tropical swamp. The city has decided to fog parts of downtown overnight with malathion, a powerful insecticide. Crikey.
---
11:50 am CDT. 2272 km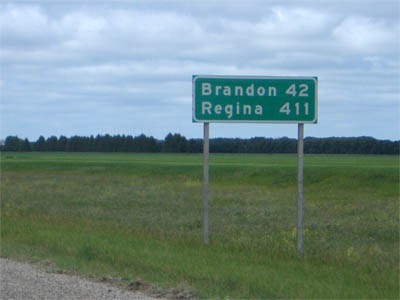 It's raining right now, even though today's edition of the Winnipeg Free Press was calling for sunshine from Manitoba to the Pacific. We're not particularly excited about the prospect of prairie camping in the rain, particularly when it's flooded everywhere we look. Farmer's fields, people's front yards, streams, rivers, and ditches - there's water everywhere. We decide that if it's still wet come Swift Current we will push on to Banff. We're currently passing through Portage la Prairie, home of the world's largest Coke can. It's funny how the city's most famous landmark is a giant piece of garbage.
---
1:44 pm ST. 2530 km
Welcome to Saskatchewan. Aaron and I have now adopted the high-five as our way to celebrate crossing into another province. We walk across the highway and down a few steps of a dirt road marking the interprovincial border. Clock goes back an hour to Saskatchewan Time because strangely enough, this province does not follow Daylight Savings. Traffic is so sparse that we can walk across the Trans-Canada Highway, spend 5 minutes taking photos, and return back across the highway to our car without encountering a single passing car or truck. Weird.
---
2:00 pm ST. 2551 km
The award for the cutest town so far on our trip goes to Moosomin, Saskatchewan, the first town over the border and place I believe gets a mention in the Guess Who song "Running Back to Saskatoon". The skies are perfectly blue now and Aaron gets eaten alive by mosquitoes for the entire forty-five seconds he's out of the car.
---
3:48 pm ST. 2754 km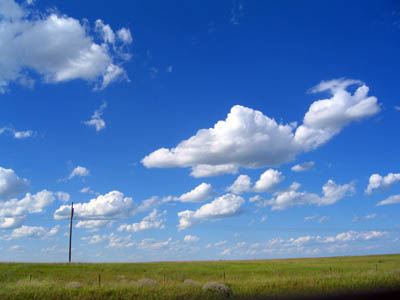 We're still twenty kilometres away from Regina, the capital of Saskatchewan and the city where my father trained to be an RCMP officer, yet you can already see the 'skyline' (I use that term loosely) on the horizon, straight ahead. I think we're going to bypass the city to the south and re-fuel in Moose Jaw, a further seventy kilometres or so away.
---
3:51 pm ST. 2760 km
---
4:50 pm ST. 2851 km

After driving 1700 odd kilometres without much help from Scuby, I cede the driver's seat in Moose Jaw. Matthew will get the glory of pulling us into the campground tonight. There's nothing but horizon in every direction. Except up, which is sky. And down, which is two lanes of paved goodness. The pleasure metre is rising.
---
6:07 pm ST. 3000 km

We're approaching Swift Current. I'm starving. We can't wait for ginger-sesame fusili and baby carrots. No veggie burgers tonight, I think. It's still 120 kilometres due south to Val Marie and Grasslands National Park, on the Saskatchewan-Montana border.
---
Tuesday, July 19, 2005
7:31 am ST. 3156 km
What a night in Val Marie, the "place where heaven meets earth". We camped out in Grasslands National Park , arriving late enough that we had to rush to cook dinner and set up camp before sunset. The gravel road into the park was lined by hundreds of curious prairie dogs, several of whom narrowly escaped a painful death under the tire of a Volkswagen. The scenery is spectacular - it's very hot and dry and we're surrounded by arid, rolling grasslands, abandoned ranches, coulees, buttes, and old corrals. This is as close to New Mexico as you're ever going to get in Canada . It seems there isn't a single other soul as far as the eye can see - could we be alone in a breathtaking national park? The bugs were a big nuisance however - we were forced to watch the sunset through the closed screen of our tent. We were serenaded by coyotes as we turned in for bed. The sun woke us up early and it was warm and sunny by 6 am - our earliest start since our departure from Toronto. Less than 800 kilometres to the Rocky Mountains now and we're both pretty excited.
---
10:28 am MDT. 3471 km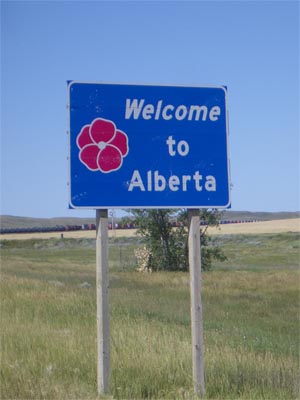 Alberta! I was born in this province. The mood is rather upbeat as we've almost completed the prairie portion of the journey. We're making good progress today as the road is flat and straight and the speed limit is 110 km/h. Less than 350 kilometres to the mountains now. We've entered Mountain Daylight Time, but the clocks stay the same.
---
11:28 am MDT. 3524 km
A diesel refill in Medicine Hat and foot-long veggie subs at Subway. The cute teenage girls behind the counter are unimpressed by the fact we are sans pickup truck. And the fact that we would use a word like "sans".
I think the prairie dogs may have stolen my sunglasses yesterday.
---
2:19 pm MDT. 3822 km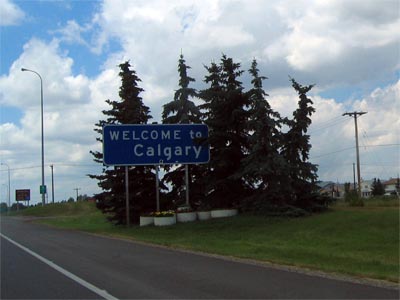 Calgary, Alberta. Cowtown. The Olympic ski jump looms by the side of the Trans-Canada Highway. There's a program on CBC Radio One regarding the incredibly popular nudist scene in 1980s East Germany. We're caught in the middle of a traffic jam as we're forced to drive right through the city.
---
2:41 pm MDT. 3861 km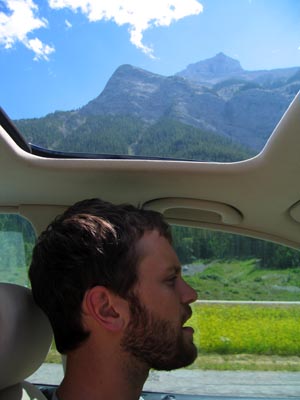 Rockies!
---
Wednesday, July 20, 2005
8:24 am MDT. 3948 km
My friend Sue strongly suggested that we stay in Canmore as opposed to Banff , and she was spot on. It's pretty touristy, but definitely not as much as its Rocky Mountain neighbour. The hostel was fantastic – brand new facilities and dramatic alpine views. We checked in, dropped off our stuff in our room, and headed into town for a beer. We decided on the sunny patio at the Grizzly Paw Pub where we met a group of nice young ladies. They suggested the Drake Hotel as the happening place on Tuesday evenings, so we headed back to the hostel for a feast of black bean burritos before joining them later for a drink. We were in bed by 12:30. We're off to a decent start this morning as we head into Banff with the blazing morning sun at our backs. Vancouver and the Pacific await us only 1000 kilometres away.
---
8:58 am MDT. 3972 km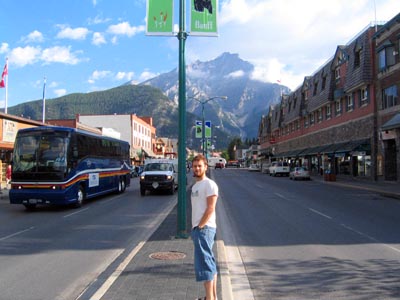 We make a quick stop in the town of Banff for a coffee. It's before 9:00 and there are already tourists everywhere. There's a very large elk in a mangled heap on the side of the highway just outside of town, its innards strewn and smeared across the pavement like a spilled can of lumpy red paint.
---
9:46 am MDT. 4048 km
British Columbia: the Best Place on Earth! Matthew takes over the driving so I can focus on my drive-by photography. I guess it's not that safe for the driver to be taking pictures through the sunroof while cruising through these delectably windy roads.
---
10:23 am MDT. 4105 km
Golden, B.C. Just spent half an hour with my head out the sunroof taking photos of the Rocky F@#&in' Mountains! Spectacular.
---
10:09 am PDT. 4172 km
Another time zone change! Mountains abound.
---
10:33 am PDT. 4196 km
We reach the summit of the famous Rogers Pass - 1330 metres above sea level. Glorious sunshine, crisp mountain air, and snowy peaks. Lots of RVs to pass.
---
2:15 pm PDT. 4513 km
We're in the heart of the B.C. interior. Highway 5, a.k.a. Shit City. No more mountains, just rolling hills and conifers. And tons of highway construction with tractor trailers to boot, so progress is slow. Matt's tummy hurts. I'm starving. Diet today: coffee, chips, Red Bull. We better hit up a serious vegan-friendly restaurant tonight. 175 kilometres to Hope. Let's 'hope' it doesn't suck. Actually, let's hope we make it there alive with all of the bonehead double-solid line passes Matthew keeps pulling.
---
2:21 pm PDT. 4525 km
Where are the prairie dogs? One little p-doggy standing on his hinds beside the road would really pick me up. Instead we catch a peek of the odd bald eagle. Better than another exploded elk, I guess.
---
3:23 pm PDT. 4631 km
We help fund the further concretization of Canada's natural wonderlands by paying $10 toll to get on the Coquihalla Highway from Merritt to Hope. Van City here we come.
---
5:10 pm PDT. 4801 km
Vancouver is so close I can smell it. Or maybe that's just Aaron's body odour. He's scratching himself in strange places. We've been in the car for so long now we're both going pretty mental. We arrived in the Van City area almost three hours earlier than we expected, but that means we're smack dab in the middle of rush hour. Scott and Gosia, friends that we made during the 2002 blackout, live right downtown, so it may take us a while yet.
---
Thursday, July 21, 2005.
5:30 am PDT. 4840 km.
Groggy early morning departure from Scott and Gosia's Van City apartment. Last night was a blast - celebratory beers for our friends' recent engagement, a veggie dinner a Foundation, a funky east side eatery, then a sunset (and post-sunset) chill out on the beach at the Spanish Banks. Gosia, a dental hygienist, spread some flossing propaganda and tried to trick me out of getting general anaesthetic when I get my wisdom teeth pulled in a couple of weeks. I like Vancouver. Definitely a different feel than other western cities we've seen (e.g. Regina). The kids in town seem to know what's up and any place where you can go to the beach after work is alright in my books. Out heartfelt thanks extend to Scott and Gosia for their hospitality. Gosia can't make it to Saltspring Island this weekend, but Scott will be partying for two. For now, we're on the road to Tsawwassen to catch the ferry to Victoria and it's not even 6:00 am yet. Damn, we're hardcore.
---
8:27 am PST. 4874 km
Ferry trip complete. Sunshine on the top deck of the Spirit of Vancouver Island while four Brazilian teens danced to Portuguese dance music on their boombox. I catch my first glimpse of Saltspring Island to starboard as we approach Swartz Bay Ferry Terminal just outside of Victoria. A mysterious odour lurks in the car. Could it be coming from the cooler? When was the last time we emptied that thing?
---
9:10 am PST. 4904 km
We arrive at Matthew's parents' home on Gordon Point in the Municipality of Saanich, about twenty minutes north of Victoria.
---
---
Tuesday, July 26, 2005
10:39 am PDT. 5341 km
So it's been several days since the last journal entry, mostly because we reached a destination of sorts - Saltspring Island. Here, on my grandparents' oceanfront farm, we were joined by friends Caroline, Tyler, Casey, Cheryl, and Scott, who had all come from various spots on the west coast for four days of relaxation. Casey and Cheryl were lucky enough to arrive on a float plane directly from downtown Seattle. The weather was fantastic. Some braved the frigid Pacific waters for a quick swim. Some pictures can be seen here. We left the island early this morning via the Vesuvius-Crofton ferry, and here we are now at Cathedral Grove, more or less midway up Vancouver Island, halfway between Qualicum Beach and Port Alberni. We are staring in awe at the two-metre diameter Douglas Fir and Western Red Cedar. Aaron takes some black & white photos using a fisheye lens to capture the old growth towering into the blue sky. Tofino, the western-most stop on our trip, is 150 kilometres away.
---
11:14 am PDT. 5382 km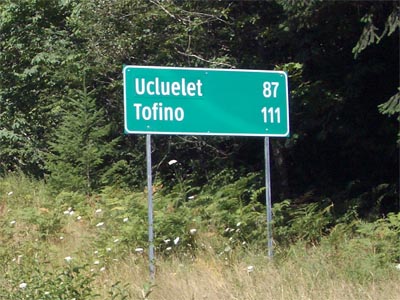 Pacific Rim Highway, the stretch of road between Port Alberni and Ucluelet, is small and winding. The scenery is beautiful, but the mountainsides are scarred by clearcut logging. Forestry is obviously big business out here. Vancouver Island is massive - about 600 kilometres long and 200 kilometres wide - much bigger than P.E.I. You get a better idea of how large it is when you cross it east to west and are forces to drive through a range of huge, snow-capped mountains. We pass Sproat Lake, where I camped with friends a couple of years ago, and it's the furthest west in Canada I've ever been.
---
Monday, August 1st, 2005.
4:40 am PDT. 6242 km
Goodbye Vancouver Island. Journal entries for the past week have been few and far between, mostly because there's been less travelling and more vacationing. Tofino was amazing - sunbathing and watching the surfers on Long Beach, hiking through temperate rainforests, browsing Native art galleries, and relaxing in 50-degree Celsius hot springs. But now we're saying goodbye to my parents at a ridiculous hour of the morning and getting on the Coho Ferry to Port Angeles, Washington. We'll drive across the Olympic Peninsula and take a ferry from Bainbridge Island right to downtown Seattle, where we'll stay with Tyler for two days.
---
8:01 am PDT. 6248 km
Welcome to the U.S.A. It smells a bit different over here in Port Angeles, due south across the Straight of Juan de Fuca from Victoria, but the gas station attendant was pretty friendly. Now we're dealing in gallons, Fahrenheit, and miles. It's all a bit confusing, especially at this hour of the morning.
---
8:31 PDT. 6289 km
It's raining - finally some weather indicative of the Pacific Northwest. There are fields of lavender beside the highway.
---
10:24 PDT. 6364 km
Seattle. We take a commuter ferry across Puget Sound from Bainbridge Island and receive an escort to Pier 52 by a machine gun-equipped U.S. Coast Guard boat. My my, what a pleasant introduction to the Emerald City.
---
Wednedsay, August 3, 2005
6:17 am PDT. 6419 km

After two great days in oh-so hip Seattle (more nose piercings per capita than Toronto, methinks), we hop on I-90, the interstate highway which runs all the way to Chicago (and, if one were so inclined, eventually on to New York City). Tyler has been a great host. We spent last night drinking at Linda's Tavern, apparently the place where Kurt Cobain was last seen alive. Aaron wishes we had a Mudhoney CD. Eastward ho!
---
8:40 am PDT. 6643 km
Went for a short hike in Ginko Petrified Forest State Park , where walnut, fir, gum, and ginko trees were entombed in lava 15 million years-ago. The landscape is spectacular - hard to believe there is 'broken semi-arid arroyo country' only two hours east of the lush green of Seattle. Who knew? It feels like we're in Nevada. Aaron spots a sign warning the presence of Western Rattlesnakes and we retreat hastily to the air conditioned car.
---
11:04 am PDT. 6654 km
Vantage, Washington (population 70). We drive a bridge over the Columbia River, and are met by Wild Horses Monument on the top of a large hill. Strong, erratic wind currents blow as we gaze at the silhouettes of dozens of prancing artificial wild horses and the nearby river and canyon. At the current rate of highway attraction stops, we should be in Yellowstone by September.
---
11:23 am PDT. 6910 km
Leaving Apple Maggot Quarantine Area.
---
11:35 am PDT. 6924 km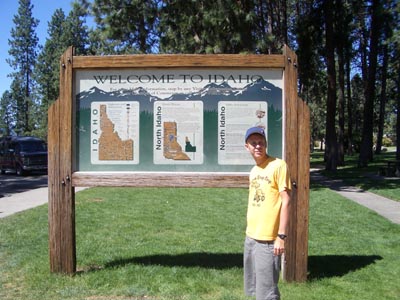 Idaho. Famous potatoes.
---
11:35 am MDT. 7030 km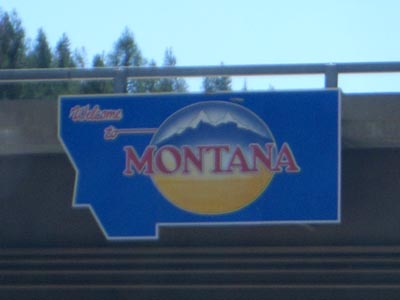 We're in Montana now. It only took us sixty-one minutes to cross the panhandle of the state of Idaho, but we also entered Mountain Time again, meaning we lose an extra hour. Shitty. We've been taking turns napping and driving today, which we haven't done much of before now. I drank a lot of crappy American beer last night, and I'm definitely paying for it.
---
7:12 pm MDT. 7654 km
We've covered more than 1200 kilometres - the most in one day so far - and we've finally arrived at Yellowstone National Park. A cute girl greets us at the vehicle entrance and it's not long before we cross the state line into Wyoming, where we'll spend the night. There are lots of people and cars around. It all seems very visitor and activity-friendly - quite the contrast from the Canadian parks which seem more natural and conservation-oriented. Aaron is tired, hungry, and irritable.
---
7:18 pm MDT. 7662 km
Our first introduction to an American National Park is a traffic jam. At least a dozen cars are stopped by the side of the road, and all of the fathers have their camcorders trained on a group of four sad-looking elk.
---
Thursday, August 4, 2005.
7:56 am MDT. 7689 km
Fountain Paint Pot, Yellowstone National Park . It's great that this park has an abundance of geothermal attractions, because our campground was a nightmare. We take a ten minute early morning walk to see some geysers, fumaroles, and - my favourite - mudpots. Large pools of grey-white mud bubbling from the earth like a pot of thick pea soup. Everywhere around us is steam and the sounds of hissing and churning below. The centre of Yellowstone is a sixty kilometre-wide caldera formed when the ground collapsed after a series of massive (240 cubic miles of debris!) volcanic eruptions between 2 million and 640,000 years ago. We have yet to eat breakfast.
---
8:28 am MDT. 7716 km
Old Faithful. The World's most famous geyser erupts on average every 40-126 minutes (its eruption intervals are getting longer with time). Think we're going to sit around like idiots waiting for it to blow water high into the air? No. We cross the Continental Divide. From here all water and Volkswagens flow eastward.
---
9:40 am MDT. 7799 km
Major roadwork as approach the East Entrance to Yellowstone. We're stopped for 30 minutes on a gravel road on the side of a cliff at 8000 feet elevation. There are no barriers at the side of the road. I think our transmission is broken. We just saw a girl, who couldn't have been more than 20 years-old, driving a full-size dump truck. That's the way they do it in Wyoming , I guess.
---
10:17 am MDT. 7835 km
After our lengthy ordeal we finally make it out of the eastern boundary of the park. The scenery in northwestern Wyoming is breathtakingly rugged. Mountains, massive rust-coloured pillars, and crystal clear streams teeming with flyfishermen (à la A River Runs Through It). The rest areas at the sides of the state highway have separate areas for people to park their horse trailers, and many have left the road to explore on horseback. All of the locals are wearing cowboy hats.
---
11:14 am MDT. 7947 km
Cody, Wyoming. A charming little town which claims to be the Rodeo Capital of the World. Cowboys abound. There's a rodeo at 8:30 every night for the entire summer. We stop at a grocery store to stock up on food and refreshments, have a quick lunch, and continue on.
---
1:54 pm MDT. 8127 km

We Reach the Powder River Pass Summit at 9,666 feet, the highest elevation we will reach at any point on our journey. The peak of the mountain is comprised of 3-billion year old pre-cambrian granite gneiss. We are making extremely slow progress so far this morning despite our lofty ambitions to reach Sioux Falls, South Dakota. We have yet to travel on an interstate highway today.
---
5:55 pm MDT. 8561 km
Mount Rushmore, South Dakota. The $8 fee for an annual parking pass (there are no daily rates) makes the decision not to stop quite easy. We take some drive-by photos of the presidential faces from a distance and park for free near George Washington's profile. Matthew is disappointed not to see Lincoln, but I don't really care. It seems as though it's National Biker Week in Keystone, South Dakota. One local hotel advertises a free bike wash by a bikini-clad woman for all paying customers. There's a big Jack Daniel's party at the local saloon. There appear to be no helmet laws here so the drunken, leather-clad, ZZ Top-bearded old dudes on the I-90 are letting their hair blow in the wind. For all the talk of hot rods and hot broads they only seem to be getting any action from old, overweight chicks. At least they still seem to be having fun. Matthew is taking over the driving duties after letting me handle them for the past ten hours. I'm checking in to Hotel Passenger Seat for an extended snooze.
---
6:15 pm MDT. 8574 km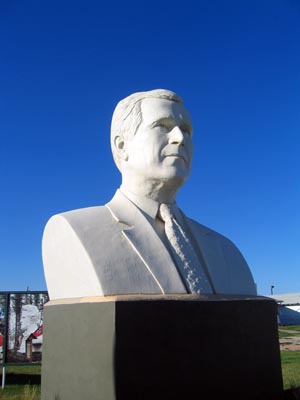 We stop for the cheapest fuel of the trip (US $2.359/gal) at a station where a mini Mount Rushmore (Mount Rushless?) has busts of "modern America's greatest presidents" - Kennedy, Regan, and George W. Bush. A serious biker brigade gives me an intimidating look-over after I keel over laughing in Dubya's face.
---
6:48 pm MDT. 6624 km
I look up to notice Matthew is cruising nice and slow in the right lane of I-90, sipping his Red Bull, chewing a stick of gum, and getting smoked by tractor trailers in the fast lane. At this rate, we won't ever make it to Minnesota. I better go back to sleep.
---
12:33 am CDT. 9159 km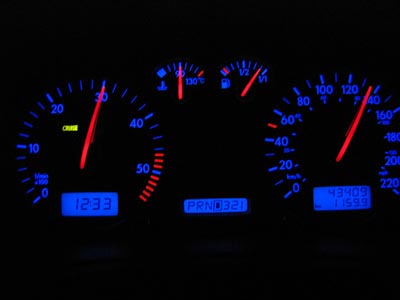 Sioux Falls, South Dakota. We've been driving for 1387 kilometres and fifteen hours so far today. Unfortunately, all the motels in town are full because of the world famous biker rally in nearby Sturgis. We press on eastward with the hope of having better luck in Minnesota.
---
1:20 am CDT. 9234 km
We stop at a bunch of crummy motels in Luverne, Minnesota. All were full of bikers. We're now back on the highway towards Jackson. Aaron has the sleepies.
---
Friday, August 5, 2005
9:01 am CDT. 9321 km
We finally find a couple of beds to crash in around 2:30 am this morning at the EconoLodge in Jackson, Minnesota. Caught some z's for a little over five hours and hit the road after Matthew has his complimentary eggs and coffee. The carpet in our room felt like it was covered in a film of something funky. It's on my feet now. Estimated arrival time in Chicago - 6:00 this evening.
---
9:37 am CDT. 9370 km
Blue Earth, Minnesota. "Earth So Rich, the City Grows". So does a sixty foot-tall Jolly Green Giant. No time for a photo stop.
---
11:39 am CDT. 9623 km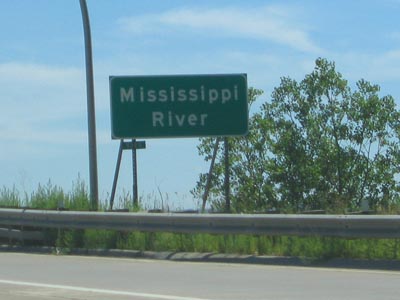 Just crossed the Mississippi at La Crosse, Wisconsin, finally liberating ourselves of the evil shackles of Minnesota. The sun is shining brightly through the passenger window and burning a hole through my soul. We've been rocking out on full blast all day and I think my eardrums are about to burst. Welcome to Wisconsin, America's Dairyland.
---
2:09 pm CDT. 9849 km
Les Québecois always get a hard time for being poor drivers (we should know), but I must say that the average American is much worse. Jokers abound on the I-90 south between Madison, Wisconsin and Chicago.
---
2:55 pm CDT. 9926 km
Welcome to Illinois, the Land of Lincoln. It's very hot and humid outside, a reminder that it's still very much summer in these parts. We stop at "Illinois' Best-maintained Rest Area 1999 & 2000" and are less than one-hundred miles from the Windy City. A toll booth appears on the horizon. A toll booth??
---
Saturday, August 6, 2005
11:01 am CDT. 10086 km
The last night of our roadtrip was spent in Chicago, the Windy City, a town described by one of the guys in my hostel room as a "laid back New York". It's a city of architectural splendour with a magnificent waterfront - something that Toronto should most certainly aspire to. You instantly get a unique feeling about the place when you step onto the streets, just as you do somewhere like New York, London, or Paris - there's no mistaking where you are. Aaron and I drop our bags off at our hostel (ideally located on Congress Parkway about seven blocks from the Sears Tower) and head towards the waterfront. The Chicago Symphony Orchestra is playing a free outdoor concert in Millennium Park. Next stop is a stroll to Navy Pier, which juts one mile out into Lake Michigan. We dine at a vegan restaurant in Belmont and the finish the night celebrating the last night of the trip with drinks in the Gold Coast area of town, near the Magnificent Mile. It's without a doubt the nicest city we've visited on the trip. We get on I-94 this morning and are homeward bound.
---
11:44 am CDT. 10138 km
Indiana. Amber Waves of Grain. All I can see is concrete and billboards.
---
1:11 pm EDT. 10193 km
We cross into Michigan, the tenth and final state we'll visit on this trip. We also enter Eastern Daylight Time, which is very nice, even though we lose an hour. Next border is the one with Canada.
---
3:00 pm EDT. 10355 km
Battle Creek, Michigan. Birthplace of William Gregory Scuby, my grandfather. It's also known as "Cereal City, U.S.A.", home of the Kellogg Corporation.
---
4:45 pm EDT. 10537 km
Flint, Michigan. Shoutout to Michael Moore. I love that dude.
---
5:43 pm EDT. 10648 km.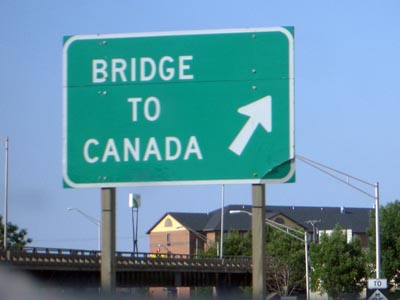 We cross from Port Huron to Sarnia over the St. Clair River. After a few quick questions from a rather stern looking Customs agent, we're back in our home and native land. It feels phenomenal. High fives are in order. The roads are smoother, the grass is greener, and the air is cleaner. Toronto is in our sights.
---
6:32 pm EDT. 10741 km
London, Ontario. Home of the 2005 Memorial Cup Champion London Knights. I don't know what to write in this journal anymore. I'm tired. The car is eerily quiet.
---
8:28 pm EDT. 10939.2 km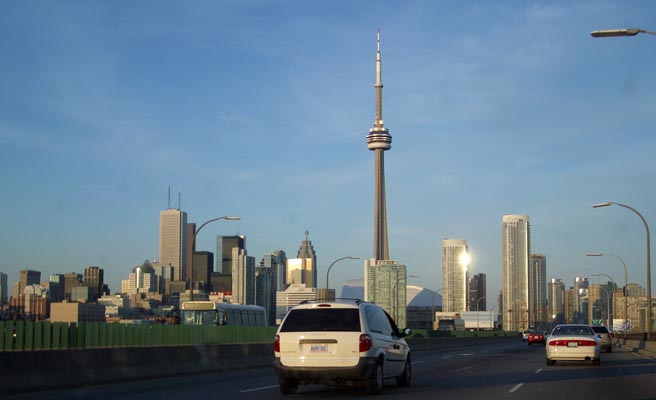 Home sweet home. The perfect time to pull into Hogtown – a clear, warm Saturday evening in August. It's been quite the trip...
---
Random trip photos from Saltspring Island, Victoria, and Seattle
---
Total kilometres driven: 10939.2 km
Total cost of fuel: CDN $511.66 (average exchange rate of 1.2481)
Total diesel fuel consumed: 644.3 L
Average fuel price: $0.794/L
Fuel efficiency: 16.98 km/L (advertised by Volkswagen as 20.41 km/L)
Cost efficiency: $0.0468/km
---
Five most listened to albums:
1. Clap Your Hands Say Yeah - "S/T" (2005)
2. Jason Collett - "Idols in Exile" (2005)
3. Rheostatics - "2067" (2004)
4. Most Serene Republic - "Underwater Cinematographer" (2005)
5. Bright Eyes - "I'm Wide Awake, It's Morning" (2005)
---
Matthew's five favourite roadtrip things:
1. Serenaded by coyotes under moonlight (Grasslands National Park, Val Marie, SK)
2. Purple sunset on the shores of an inland sea (Pukaskwa National Park, Heron Bay, ON)
3. Early morning bath in cascading, 50-degree water (Hot Springs Cove, near Tofino, B.C.)
4. Eating black bean burritos on a patio, surrounded by Rocky Mountain peaks (Canmore, AB)
5. Top deck on the Vancouver-Victoria ferry in the early morning sunshine (Tsawwassen, BC)
---
Aaron's five favourite roadtrip things:
1. Chowing down on Matt's mom's home cooking (Victoria, BC)
2. Feeding apples to Chico the Donkey (Saltspring Island, BC)
3. Swimming under a waterfall (Sooke Potholes, BC)
4. Learning the ins and outs of Microsoft (Seattle, WA)
5. Gazing at skyscrapers (Chicago, IL)