Southern Ontario Railway Map
This is an ongoing project to plot both existing and former railways of Southern Ontario using Google Earth. I have uploaded the map as a KMZ file which may be accessed in Google Earth or ArcGIS Explorer. Both programmes are freely available. Any other programme that supports KML will also be able to access this map, including ArcGlobe.
The map layers are organized into current (existing) trackage and abandoned trackage. These sections are subdivided by railway in a directory tree and essential details including when a particular railway was constructed, changed hands and if applicable, abandoned are also included where possible. Note that as this is an ongoing project, it is incomplete at this time and is currently available only as an alpha release.
We envision that this map can be added to or modified in many ways. For example, the layers contained in this map could be easily reorganized so as to illustrate the chronological evolution of the railway system. It could also be expanded in a particular area to give a more local perspective, or integrated with other data such as roads and buildings to give an expanded historical image of a certain place or time. If you seek to change and subsequently share the files in this map, please see the distribution license at the bottom of this page.


FEATURES
The ultimate goal of this project is to provide an easily navigable and freely available source for information on the Southern Ontario railway system both in its past and current states. In order to achieve this, we have included a number of features to make the data easy to understand and navigate
Currently active railways illustrated with bold 5pt. lines; abandoned lines in 2.5pt lines.

Spur lines and yard trackage shown where possible
Interchanges/junctions shown.
No distinctions are made for double trackage
Trackage in use for less than 2 years may not be shown.
All lines colour coded by most recent owner/operator. Where lines are owned by a non-railway interest (such as a municipality) but operation is contracted to a railway, the colour used is that which has been assigned to the railway operator.
Railway lines, as well as other features such as stations can be made invisible or visible to show the railways as operated at certain times, by certain companies, etc.

Railway lines are organized by ownership, so that railways that have been merged are represented as subdirectories of the resultant company in the directory tree.

Object properties contain information on construction and current status.

Stations shown as placemarks; when clicked on they will show information about the operation and present status of the facility.
Spur lines shown where possible/practical
Click below for a sample: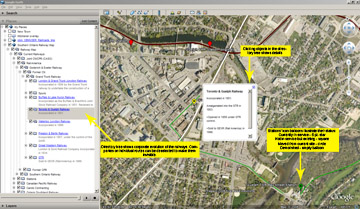 It is hoped that all main-line railways in Southern Ontario will be included in the map eventually, including street railways, but progress is slow and sometimes difficult. Both of the authors have tried wherever possible to uphold a high standard of accuracy and exactitude in every aspect of this project. Therefore, we welcome any contribution of information (maps are particularly welcome!) to help refine, revise or expand a portion of the map. We currently seek information on the following areas in particular:
Anywhere - Station locations; GPS coordinates are particularly helpful. Information about when the stations were built, taken out of service and demolished/moved is greatly appreciated.
Tillsonburg - Cross-town trackage formerly operated by CN but since removed. The exact alignment as well as details on abandonment are both sought.
Ingersoll - Maps of the town which show the path of the ex-CP (TLE&PR) line northwards.

Dundas - Maps of the town that illustrate the connection of the TH&BR to the CN
Windsor - Any maps, particularly those which show street railways.
Sarnia - Information detailing the dates at which different connections between the GTR and ex-GWR mainlines were build and abandoned.
Woodstock - Any old maps that show the interchange between the ex-GWR mainline and the ex-Port Dover & Lake Huron Railway mainline
Stratford - Information on whether any portions of the former B&LHR or PD&LHR are operated as industrial spurs.
Anywhere - Street railway maps.


CONTRIBUTORS
Eric Zadro - Guelph, Ontario
Responsible for mapping the railways in most of Southwestern Ontario and the Golden Horseshoe south of Toronto, as well as collating the project for public release.
Paul Delamere - Missisauga, Ontario
Responsible for mapping the railways outside of Southwestern Ontario and the Golden Horseshoe south of Toronto.

We would like to take the opportunity to thank the following people for their assistance in bringing this project to its completion:
Pat Adam, Tony Bock, Charles Cooper, Bernie Drouillard, Monika Fuhry, Jim Griffin, Michael Jacula, Ken Jones, Theresa Lewitzky, Tom Luton, and Eric May, Daniel McConnachie, Rob Sterne, Vicky Whal.

Please see the Bibliography page for further resources on this subject.


The map data and information contained in the Southern Ontario Railways Map is licensed under the Creative Commons Attribution-Share Alike 3.0 License. To summarize, you are free to share and modify this work in any way so long as you appropriately attribute it and distribute under a license identical to this one. Official License.
Click here to download the Southern Ontario Railways Map
Release Mark: alpha 06

Last updated: 28th June, 2009
Please direct any and all questions or suggestions you may have to: