Contact:

alan.galey [at] utoronto [dot] ca

Alan Galey
Faculty of Information
140 St George St.
University of Toronto
Toronto, Ontario
Canada M5S 3G6
Bio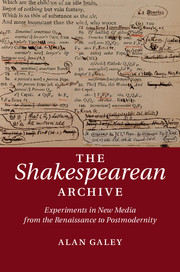 Alan Galey is Associate Professor in the Faculty of Information at the University of Toronto, where he also teaches in the collaborative program in Book History and Print Culture. He is currently working on two primary research projects: a set of open-source digital prototypes titled Visualizing Variation, for which he holds a Folger Shakespeare Library fellowship, and a book-length study titled The Veil of Code: Studies in Born-Digital Bibliography (see below under Research for details on both). He is also co-editor of the digital book history project Architectures of the Book (archbook.ca). He has published in journals such as Book History, Shakespeare Quarterly, Literary and Linguistic Computing, College Literature, and Archival Science, and has co-edited the book collection Shakespeare, the Bible, and the Form of the Book: Contested Scriptures (with Travis DeCook; Routledge, 2011). His article "The Enkindling Reciter: E-Books in the Bibliographical Imagination," published in Book History in 2012, was awarded the Fredson Bowers Prize by the Society for Textual Scholarship. He was also given the Outstanding Instructor Award by the Master of Information Student Council for 2013-2014. His first monograph book, The Shakespearean Archive: Experiments in New Media from the Renaissance to Postmodernity, was published in 2014 by Cambridge University Press.
He has presented papers linking textual scholarship, book history, and digital technology at the conferences of the Modern Language Association, the Society for Textual Scholarship, the Shakespeare Association of America, the Alliance of Digital Humanities Organizations, the Society for Digital Humanities/Société pour l'étude des médias interactifs, the Renaissance Society of America, the International Congress on Medieval Studies, the Society for the History of Authorship, Reading, and Publishing, and the University of Edinburgh's Centre for the History of the Book. He has also given invited lectures at Texas A&M University, Northwestern University, Loyola University, Harvard University, Yale University, the Folger Shakespeare Library, and the Library of Congress.
Teaching
INF 2159H: Analytical and Historical Bibliography
This course examines books and other textual artifacts as material objects, focusing on methods of production and manufacture, and how they affect the transmission of texts. Students are introduced to theories and methods of bibliographical description and analysis, and to their application across a range of media. Classes cover the history of textual production, from hand-press to digital books, and its relevance to disciplines such as librarianship, digital curation, and digital humanities
INF 2331H: The Future of the Book
A new graduate course I've developed for the Faculty of Information. This course considers the history and possible futures of books in a digital world. In this course "the book" is interpreted broadly, meaning not just an object with covers and pages, but also an evolving metaphor for conceptual frameworks for knowledge, and a metonym that brings together many different technologies, institutions, and cultural practices. The course introduces students to interdisciplinary approaches such as book history, textual studies, history of reading, and digital humanities, with an emphasis on balancing theoretical speculation with practical implementation. Readings will survey topics such as the ontology of born-digital artifacts, critical assessment of digitization projects, collaborative knowledge work, reading devices (old and new), e-book interface design, text/image/multimedia relationships, theories and practices of markup, the gendering of technologies, the politics of digital archiving, the materiality of texts, and the epistemology of digital tools. Students will also receive a practical introduction to XML markup and visualization tools.
INF 1240H: Research Methods
This course introduces students to a number of research methods useful for academic and professional investigations of information practices, texts and technologies. By examining the applications, strengths and major criticisms of methodologies drawn from both the qualitative and quantitative traditions, this course permits an understanding of the various decisions and steps involved in crafting (and executing) a research methodology, as well as a critically informed assessment of published research. The course offers an overview of the different approaches, considerations and challenges involved in information research. In addition to reviewing core human research methods such as interviews, ethnographies, surveys and experiments, we will explore methods used in critical analysis of texts and technologies (discourse/content/design analysis, historical case studies), with an emphasis on a holistic approach to research methods, connecting design and dissemination. We will also discuss mixed method approaches, case studies, participatory and user-centered research, as well as research methods from the humanities.
Books 1001H: Introduction to Book History
A one-term graduate course, primarily for students in the collaborative program in Book History and Print Culture, introducing foundational concepts in book history, bibliography, editorial theory and practice, the sociology of texts, book production from manuscript through print to digital text, and the history of reading. Combines seminar discussions of key topics and case studies in book history with field trips to the Fisher Rare Book Library, Massey College Press, and Coach House Press. (Previously Books 1001 and its companion course, Books 1001, were taught as a single year-long course, Books 1000Y: Book History and Print Culture.)
BKS 1002H: Book History in Practice
This is one of the core courses for students in the Book History and Print Culture collaborative program, and serves as a follow-up to BKS 1001H: Introduction to Book History. The course consists of seminars on key topics in book history, punctuated by case studies of particular books, events, and debates. These case studies are designed to pull together ongoing threads of inquiry from the readings, and to allow students to work outward from specific artifacts to general questions. Students gain a detailed understanding of current topics in the field of book history, and how to situate their own research within ongoing debates. Topics for 2013 may include challenges to the idea of print culture, the book as imagined from the past, databases, orality and literacy, archives, paratextuality, authorship, and book history in the mainstream media. Case studies may include Charles Darwin, the Treaty of Waitangi, the Walt Whitman Archive, Joyce's Ulysses, the Penguin/Random House merger, and the New York Public Library's Central Branch redesign.
INF 1005/6H: Information Workshop (topic: Architectures of the Book)
This 6-week workshop is one of the core courses in our Master of Information degree program. All students spend 6 weeks in one workshop, followed by 6 more weeks in another to make up a complete course. Project-related Information Workshop topics range from health information in the age of "free," to virtual worlds and avatars, to the docx file format, to the history of universal libraries. The workshop I have offered since 2010, titled "Architectures of the Book," introduces students to the complexities of representing print and manuscript books digitally. We explore aspects of textuality from throughout the history of the book that present challenges for digital representation: possible subtopics include paratexts, mise-en-page, variant texts, marginalia, and the relation between text and image. Combining the study of book history, bibliography, text encoding, and visualization, we focus on eXtensible Markup Language (XML) encoding not simply as the application of a technical skill or technology to a problem, but rather as an intellectual exercise that makes a virtue of the constraints of digital representation. This course is based on the Architectures of the Book project.
Research
As sole author of publications unless otherwise noted
The Veil of Code: Studies in Born-Digital Bibliography
The past few years have seen remarkable growth in textual scholarship that does not simply apply digital tools to the study of texts, but rather takes digital textuality itself as the object of study. What might an artifact like an e-book reveal about the history and social contexts of its making, or the collaborative nature of its construction? How do we locate the significant differences between the surviving versions of a digital musical recording or videogame, and what is at stake in their preservation and representation? Bibliography and other forms of textual scholarship are uniquely positioned to illuminate the human acts of construction in our increasingly born-digital cultural heritage, but need to adapt their methods, vocabularies, and theoretical frameworks to understand born-digital texts. On that premise, my current book project extends bibliographical questions and methods to several case-studies of born-digital textual artifacts, from e-books, to web browsers, to digitally curated recordings, to video games and other forms.
Archive and Interface in Digital Textual Studies:
From Cultural History to Critical Design
This project was supported by a four-year SSHRC Standard Research Grant (2009-2013, and has two types of outputs: several scholarly articles plus a monograph titled The Shakespearean Archive; and an open-source code library of prototype interface components titled Visualizing Variation.
Digital archives and interfaces significantly complicate how textual scholars read and represent human traces in texts. Textual scholars are now reckoning with a deepening separation of material form from idealized content in our tools at the very moment when literary critics have established the materiality of texts to be indispensable to interpretation. As digital textual studies takes shape as a field, it finds itself caught between these divergent trends in computational practice and cultural theory. This study responds to that problem by investigating the cultural history of the archive in scholarly editing, and by building an online library of interface components designed to be part of that cultural history. A detailed project description is available here, and publications resulting from the project are listed below.
Other publications