Stan Rogal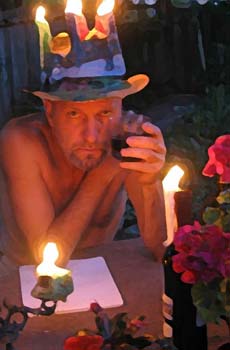 Born in Vancouver, Stan Rogal obtained a B.A. from Simon Fraser University, majoring in English and doing a double minor in Philosophy and Theatre. He moved to Toronto in 1987, where he completed an M.A. in English at York University. He ran the popular Idler Pub Reading Series for ten years, was co-creator of Bald Ego Theatre, and is now the artistic director of Bulletproof Theatre. His work has appeared in several anthologies (The Edges of Time, Seraphim Editions 1999) and numerous literary magazines, and he is the author of nine books of poetry, two novels and three short story collections.
Topics:
1. POET: Any of his books, but his two most recent in particular: "In Search of the Emerald City" (Seraphim) and "Fabulous Freaks" (Wolsak and Wynn)
2. POETRY READING SERIES COORDINATOR: Idler Pub Reading Series
FULL BIOGRAPHY AVAILABLE -- just ask!
Website:
http://www.library.utoronto.ca/canpoetry/rogal/
Poetry:
Fabulous Freaks (upcoming 2005, Wolsak and Wynn)
In Search of the Emerald City (Seraphim, 2004. 64 pps.)
sub rosa (Wolsak and Wynn, Toronto, 2003. 128 pps)
Lines of Embarkation (Coach House Books, Toronto, 1999. 88 pps)
Geometry of the Odd (Wolsak and Wynn, Toronto, 1999. 90 pps)
Personations (Exile Editions, Toronto, 1997. 80 pps)
The Imaginary Museum (ECW Press, Toronto, 1993. 80 pps)
Sweet Betsy From Pike (Wolsak and Wynn, Toronto, 1992. 80 pps)
Penumbras (Sinister Press, Vancouver, 1980. 80 pps)
Chapbooks:
All Watched Over By Machines of Loving Grace, poems (above/ground press, Ottawa, 2004)
In Search of the Emerald City, poems (above/ground press, Ottawa, 1997)