Klyde Broox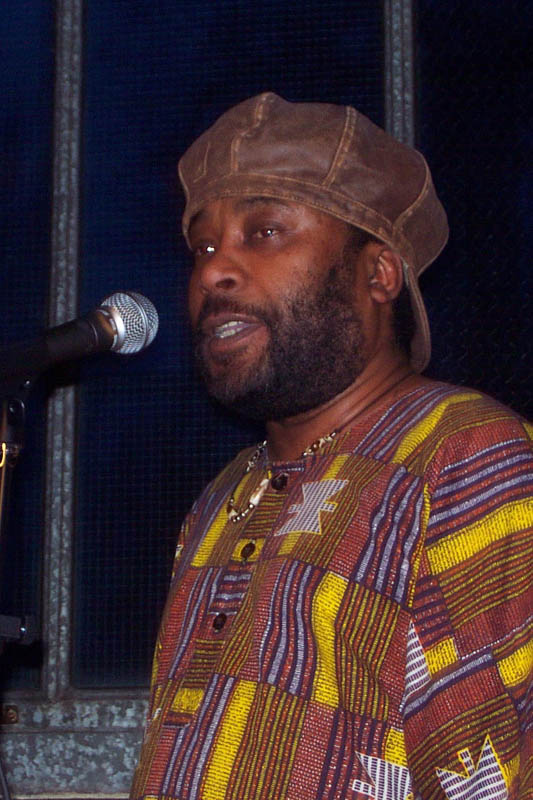 Internationally respected dub poet Klyde Broox (a.k.a. Durm-I) has decades of performance experience in North America, Europe and the Caribbean. A consummate stage artist, he blends speech, song, dance and mime into a powerful package that is inspirational, entertaining and intellectually provocative.
Born in Jamaica, in 1957, Klyde Broox left high school in 1976 for teaching and performing as a poet. In 1978, he won the Nathan Brissett poetry competition at Mico Teachers' College, with the poem "Ode To The Bamboo." By 1980, Clyde Brooks was a recognized regular on the burgeoning Jamaican poetry performance scene.
Nine years later Klyde Broox (as Durm-I) had become one of Jamaica's most promising dub poets. He travelled to England and the United States to do readings, workshops and guest lectures. A self-published chapbook, "Poemstorm," was released in 1989 and launched in Swansea, Wales. A second launch in Jamaica, later that same year, drew hundreds.
In 1992, Klyde Broox received a James Michener Fellowship to the University of Miami's Caribbean Writers' Summer Institute. A scholarship followed in 1993. During his Miami sojourn, Broox was identified by George Lamming as one of the most impressive poets emerging from the Caribbean.
Migrating to Canada in 1993, Klyde Broox established himself as an influential literary entity in the city of Hamilton. In 2004, he was nominated for a John C. Holland award for community service. Klyde Broox currently hosts PoeMagic, a popular performance-oriented open-mic series, in Hamilton, Ontario, where he lives with his family.
Klyde currently hosts PoeMagic, a popular performance-based open-mic series, at Hamilton's Staircase Cafe, on the third Friday of each month. Broox, sometimes referred to as Hamilton's own LKJ, is a true thoroughbred of the spoken word genre.
Topics:
1. POET: Dubpoetry, and especially his book My Best Friend is White (McGilligan Books 2005).
Weblinks:
http://www.carleton.ca/caclals/chimodir/Chimovolume48.pdf
http://www.galwayadvertiser.ie/dws/story.tpl?inc=2005/11/03/entertainment/24259.html
http://www.jamaica-gleaner.com/gleaner/20051209/ent/ent9.html
http://www.jamaica-gleaner.com/gleaner/20051223/ent/ent2.html
http://www.radio4all.net/index.php?op=program-info&program_id=14720&nav=topic-directory&
http://www.gordperks.ca/events.shtml
Live Video Performance:
http://scholar.library.miami.edu/cls/CWSIMainPage.php (search for Brooks, Clyde)
http://www.dubpoetscollective.com/klydebroox.html