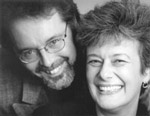 The Hutcheons are not siblings, but rather a married couple who have brought their very different professional expertise together with a shared love of opera—itself, arguably, a multi-disciplinary art form. The result has been collaborative interdisciplinary work on medicine, culture, literature, and music drama.
Linda Hutcheon holds the rank of University Professor Emeritus in the Department of English and the Centre for Comparative Literature at the University of Toronto. She is author of 9 books on critical theory and contemporary postmodern culture in Canada and around the world. She has edited 5 other books on cultural topics, and is associate editor of the
University of Toronto Quarterly
. In 2005 she won the Canada Council's Killam Prize for the Humanities for scholarly achievement and in 2010, the Molson Prize of the Canada Council. In 2011, she was made an Officer of the Order of Canada..
Michael Hutcheon is Professor of Medicine at the University of Toronto. His scientific research publications encompass a number of areas: pulmonary physiology and lung transplantation. He has also published in the fields of medical education and the semiotics of pharmaceutical advertising.
Their work together on the cultural construction of sexuality, gender and disease in opera has been published in a book entitled
Opera: Desire, Disease, Death
(1996). Their second book, a study of both the real and the represented operatic body entitled
Bodily Charm: Living Opera
, was published in 2000.
Opera: The Art of Dying
, published by Harvard University Press in 2004, is a study not only of the ubiquitous theme of death in opera, but more importantly, also of how viewing operas can actually help us deal by proxy with our own and our loved ones' mortality—something our culture has not made it particularly easy to do. Their latest book,
Four Last Songs: Aging and Creativity in Verdi, Strauss, Messiaen, and Britten
(University of Chicago Press, 2015), is a study of the late lives and last works of those long-lived composers for whom writing an opera was, in each case, a unique response to the challenges—and opportunities—of growing older.
Download
Michael Hutcheon's CV.