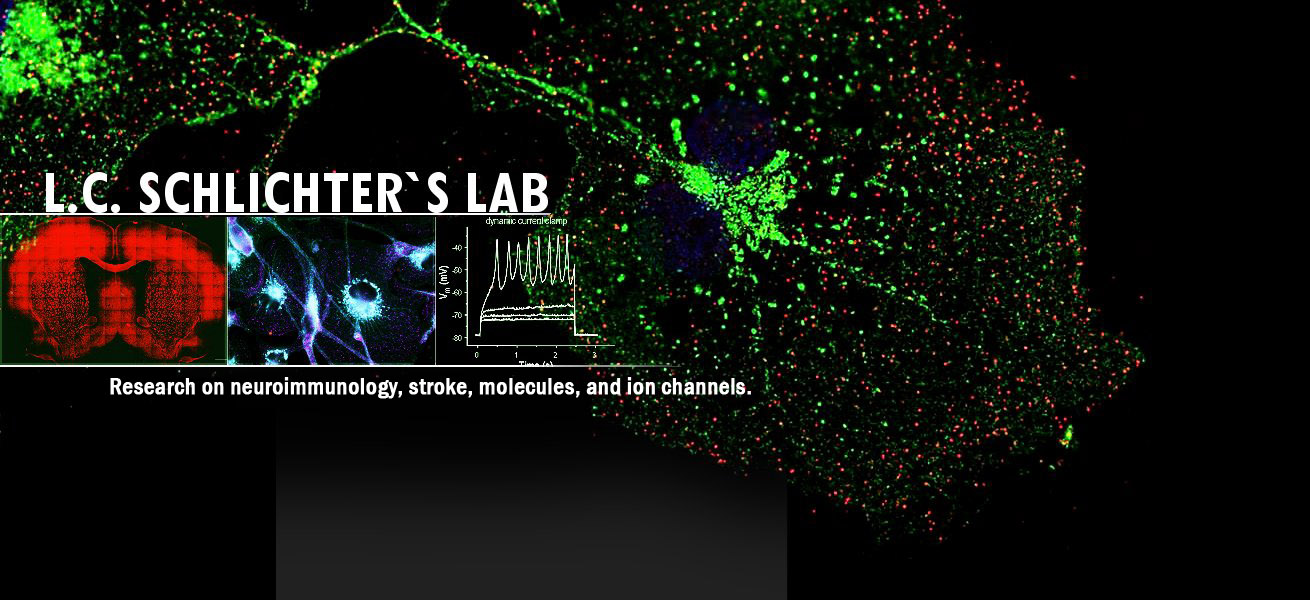 HOME




CURRENT PROJECTS




PUBLICATIONS



Toronto Western Hospital
McLaughlin Pavillion, Room 9-417
399 Bathurst St.
Toronto, ON, M5T 2S8
Canada
Telephone (Lab): (416)603-5970
Fax: (416)603-5745 (department)
E-mail: schlicht@uhnres.utoronto.ca

Copyright © 2010 L.C. Schlichter's Lab. All Rights Reserved.
Webpage designed by Angela Zhou.
Ion channels
Ion channels are current targets for drug treatment in a wide range of disorders involving nerve, muscle, epithelia and, more recently, immune cells. The contribution of an ion channel is determined by its expression, subcellular location and post-translational modulation. Thus, we are testing the hypothesis that expression of different channels signifies and controls the biological state of microglia. We have studied changes between resting and activated microglia, and currently focus on Cl
-
channels [
read article
], two Ca
2+
/calmodulin-gated K
+
channels (SK3, SK4), on the cation channel TRPM7 [
read article
], and on the unique Ca
2+
channel, Orai1 which is activated by depleting the intracellular Ca
2+
stores [
read article
].
We published the first recordings of SK channels in immune cells (Mahaut-Smith & Schlichter, 1989), and later cloned the underlying channel (SK4) from immune cells. We showed that SK4 is highly up-regulated during T lymphocyte activation, and contributes to T cell proliferation and volume regulation (Khanna et al., 1999). We then discovered that calmodulin controls both the assembly and trafficking of SK4 channels: an entirely new role for CaM [read article]. Now, we are studying other mechanisms of the SK channel trafficking that occurs in microglia.
With detailed knowledge of the magnitude, voltage dependence and kinetics of microglial ion channels, we undertook the first quantitative analysis of their contribution to the membrane potential [read article]. Now, we are investigating how the different channels co-ordinate their functions; e.g., how specific Ca2+-entry pathways activate different Ca2+-dependent K+ channel types.
Post-translational modulation is a crucial means of controlling ion channel functions, and it occurs in brain cells under damage and disease conditions. In several papers, we have elucidated how protein tyrosine kinases (i.e., Src family) and tyrosine phosphatases regulate selected ion channels. We are now analyzing protein-protein complexes that regulate the properties, expression and trafficking of microglial ion channels, using a variety of molecular biology, biochemistry, electrophysiology and imaging techniques.
[Click the images to view them enlarged with descriptions.]