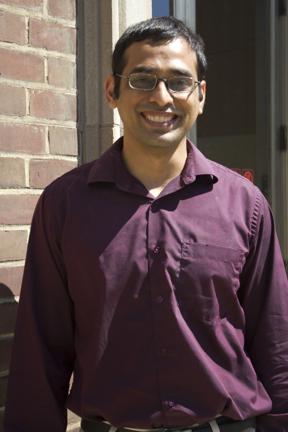 PRINCIPAL INVESTIGATOR
Prof. Arun Ramachandran
CURRENT POSITION
Associate Professor
Canada Research Chair in Engineered Soft Materials and Interfaces (Tier II)
Address
200 College St., Wallberg 368
Department of Chemical Engineering and Applied Chemistry,
University of Toronto,
Toronto, Canada - M5S3E5.
Tel: 416-978-4162
Fax: 416-978-8605
Faculty Profile:
http://www.chem-eng.utoronto.ca/faculty-staff/faculty-members/arun-ramchandran/
EMAIL:
Arun.Ramchandran@utoronto.ca
EDUCATION AND TRAINING
UNIVERSITY OF CALIFORNIA, Santa Barbara, California , USA - 93106. (Website : www.ucsb.edu)
Department: Department of Chemical Engineering
Position: Post-doctoral scholar, April 2007 to July 2010


UNIVERSITY OF NOTRE DAME, Notre Dame, Indiana, USA - 46556. (Website : www.nd.edu)
Doctor of Philosophy, Chemical Engineering, April 2007
Department: Department of Chemical and Biomolecular Engineering
Dissertation: The effect of flow geometry on shear-induced particle segregation and resuspension.


UNIVERSITY INSTITUTE OF CHEMICAL TECHNOLOGY (Formerly University Department of Chemical Technology), Matunga, Mumbai, India - 400021. (Website : www.ictmumbai.edu.in)
Bachelor of Chemical Engineering, 2001


MAJOR AREAS OF INTEREST
Condensed matter physics, microfluidics, hydrodynamics of rigid or soft particles (drops vesicles, capsules, biological cells, etc.) in dilute and concentrated systems, rheology, drug delivery, multiple sclerosis.
AWARDS AND HONOURS
Travel grant to attend the HYBER Symposium in Finland, 2016.
Travel grant to attend the IUTAM conference titled 'Multi-phase Continuum Modeling of Particulate Flows' in Gainesville, Florida, 2015.
Bill Burgess Teacher of the Year Award for large classes, 2014.
Ontario Ministry of Research and Innovation Early Researcher Award, 2014.
North American Mixing Forum Early Career Excellence Award in Mixing, 2013.
American Oil Chemists' Society S&D Division Junior Faculty Travel Grant, 2013.
Article in Emerging Investigators special issue in Soft Matter in 2013.
Reilly Fellowship at University of Notre Dame in 2002 and 2003.
Late Smt. Mahalaxmi Bhagwat Prize for the best performance in the course Engineering Applications of Digital Computers at the University Institute of Chemical Technology at Mumbai in 1998.
PUBLICATIONS
PROFESSIONAL MEMBERSHIPS
American Institute of Chemical Engineers (AIChE)
Society of Rheology
Biophysical Society
American Institute of Physics
BACK TO PEOPLE