Sali A. Tagliamonte

University of Toronto
March 10, 2021
Sali and Bridget Jankowski gave a talk for the Genealogy Club of the West Parry Sound District Museum on Tower Hill titled "From Tapes to Treasure Trove: Digitizing John Macfie's Legacy". They talked about the VSLX lab's digitizion of over 55 audio interviews conducted by Parry Sound resident John Macfie with past local residents of the area, and the processes involved in transforming reel-to-reel & audio cassette tapes into accessible digital files, which are then returned to the Museum.


July 3, 2020
Sali's talk from Abralin ao vivo — Linguists Online is available to watch on YouTube:




February 27, 2020
Last year, our team identified several words we thought were unique to Ontario -- including "soaker" and "slimes". Several of these words will be included in the next update of the Oxford English Dictionary! More to follow soon...


December 12, 2019
Goldvarb Z, the newest version of the Goldvarb variable-rule program, is now available for free download. It is now a 64-bit application, compatible with Mac OS 10.15 (Catalina, which eliminated legacy support for 32-bit applications).


June 28, 2017
I have been awarded a Canada Research Chair in Language Variation and Change by the Government of Canada. See a description of the project here!


May 21, 2017
Check out my new interview with LingSpace!




July 18, 2016
My new book, Teen Talk: The Language of Adolescents is now available from Cambridge University Press!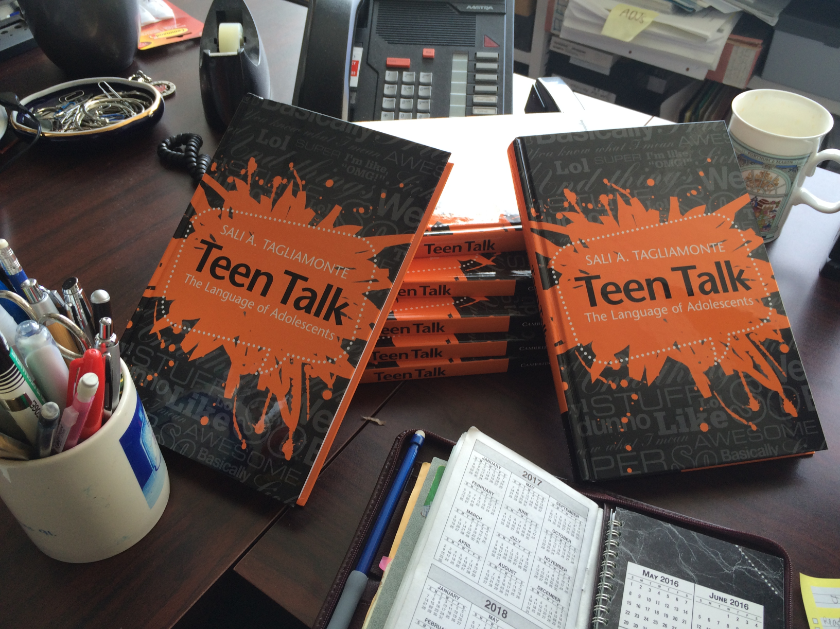 It can be ordered directly from the publisher or from Amazon.

Have you ever heard a teenager say something like this — "Like you know like my parents, right? They just drive me insane, like I just hate it!" — and thought to yourself, "What is the world coming to?"

I have five kids and I have heard this type of thing a lot! But what I have to say about the language of teenagers is not what you might expect. My book will explain what is going on and why adults should not worry!

This book documents keywords and expressions of youth at the turn of the 21st century, including like, so, just and stuff. Scientific analyses, quotes and intriguing language puzzles make it fun-filled reading. It will appeal to anyone interested in teen language — students, teachers and even parents.

Language is always changing, and change is a healthy thing for the future of English.

September 20, 2015
Goldvarb Yosemite is now available! To download it, visit the Goldvarb page.


July 8, 2015
Making Waves: The Story of Variationist Sociolinguistics will be launched at NWAV 44 in Toronto, October 22-25.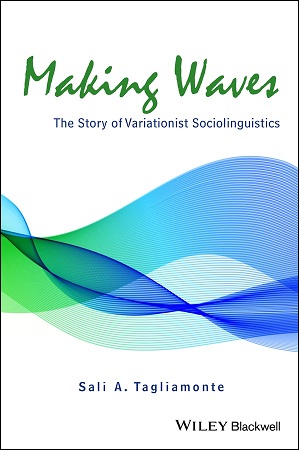 January 5, 2015
I have just finished submitting the final version of Making Waves: The History of Variationist Sociolinguistics. It will be published by Wiley-Blackwell and the plan is for it to be available in time for NWAV 44 in Toronto in October 2015.

Here is a word-cloud of the contents: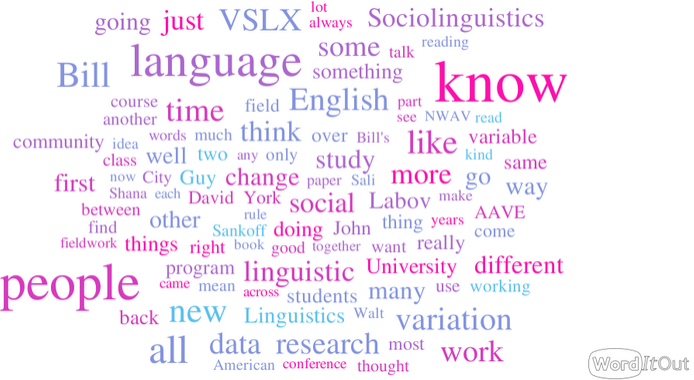 November 29, 2013
I became a member of the Royal Society of Canada in November 2013. The induction ceremony was held during the Society's Annual General Meeting in Banff, Alberta, from November 14 to 17.

You can download the text of my speech and/or watch it here:

February 28, 2013
The Canada Council for the Arts has awarded me a two-year Killam Research Fellowship from the Canada Council for the Arts. I will be going on leave from July 2013 to June 2015 in order to pursue my research full-time.


November 30, 2012
Roots of English: Exploring the History of Dialects is now available from Cambridge University Press. See the Books page for more details.


January 23, 2012
Goldvarb Lion, the newest version of the Goldvarb variable-rule program, is now available for free download. It is compatible with Mac OS 10.7.


October 16, 2011
Variationist Sociolinguistics: Change, Observation, Interpretation is now available from Wiley-Blackwell. See the Books page for more details.