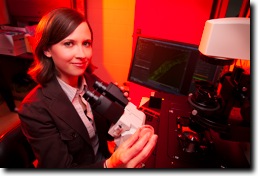 Julie Claycomb, Ph.D.


Julie
holds a longstanding interest in understanding how chromosomes are copied, built, and faithfully segregated during cell division. In addition to this interest in chromatin and chromosome biology, she has been fascinated by "non-canonical" means of regulating gene expression during animal development. During graduate school, Julie studied the mechanisms of DNA replication in Drosophila while in the lab of Dr. Terry Orr-Weaver (Whitehead Institute/MIT). Julie's post-doctoral training in the lab of Dr. Craig Mello at the University of Mass. Medical School led her to a new model system, C. elegans, and the exciting (and extensive) world of gene regulation by tiny RNAs and their Argonaute cofactors. Current work in the Claycomb lab combines Julie's interests in chromatin, small RNA biology, and regulation of gene expression.

Julie is the Canada Research Chair in Small RNA Biology, and received an Ontario Early Researcher Award in 2014. She holds a strong interest in professional development in the biological sciences, and has led the charge to develop career education curricula for students in the Department of Molecular Genetics. As the Assistant Graduate Coordinator and Assistant Chair, she is responsible for graduate student recruitment, community building, and scientific outreach activities in the Department. Julie enjoys teaching, both in the lab and in the classroom, and has taught in MGY200, MMG1010 in previous years. She currently teaches the topics of transcription, chromatin and genomics in
MGY311
.


Julie hails from farmland in rural central Pennsylvania. There, her family raises beef cattle and operates a 50+ year-old ice cream and hamburger stand, "
The Cow
," where the family's beef cattle become tasty treats...(which is one reason why she has become a vegetarian!) Consistent with her long family tradition, Julie now considers herself to be a worm farmer and urban gardener.

Email Julie
Graduate Students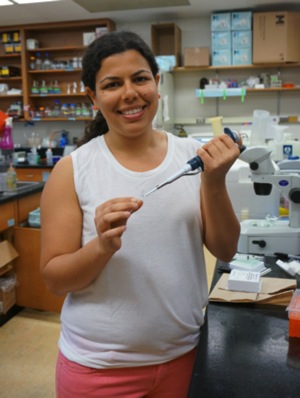 Amena (Amy) Nabih
Amy
grew up in Cairo, Egypt. She did her undergrad at Queen's University where she majored in biology, and mostly worked with flies. Although it has taken her some time to get used to working with worms, Amy really appreciates that you can't lose your worms because they can't fly away! For her MSc thesis, Amy is investigating the interplay between small RNA pathways and alternative splicing. Outside of the lab, Amy is an active person. She is dedicated to Crossfit ("If you don't know what
Crossfit
is you should check it out, it will change your life"~Amy) and running, but she also knows how to enjoy a lazy day of binge TV watching, mostly sharp comedy. Amy's career goals oscillate between pursuing a PhD and medical school. I guess we'll just have to wait and see what she decides!
Email Amy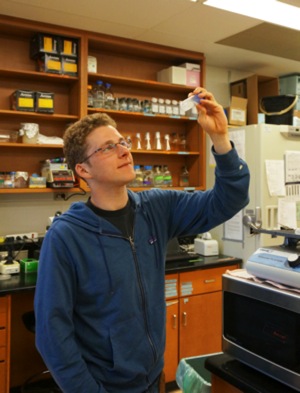 Chris Wedeles
Chris
hails
from Grimsby, Ontario and did his undergrad at U of T in Cell and Systems Biology/ Ecology and Evolutionary Biology. During his undergrad, Chris came to appreciate the utility of worms as a model system. When he's not in the lab, Chris enjoys cycling, climbing and almost anything else outdoors. For his
PhD thesis work
, Chris is working to dissect the molecular role of the Argonaute CSR-1 and its associated factors in modulating chromatin and promoting germ line gene expression.

Email Chris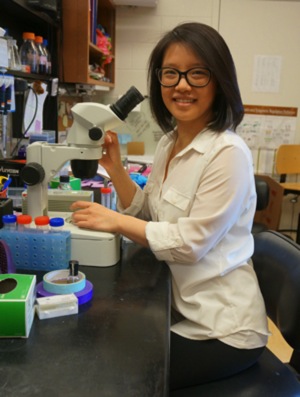 Monica Wu
Monica
was born in China, but is Canadian at heart. She completed her Honours Bachelor degree in Biochemistry at the University of Western Ontario. Monica loves to eat and try new food, but ironically, hates to cook. She is also a TV junkie, bibliophile, and if she has to go outside, she likes to spend her time hiking and swimming. Monica is our resident Argonaute Guru, as she is systematically assessing the roles that various Argonautes play in C. elegans development for her
PhD thesis work
.

Email Monica
Postdoctoral Fellows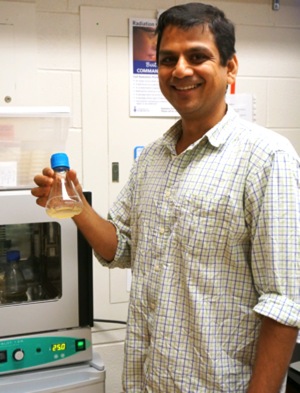 Tuhin Maity, Ph.D.
Tuhin
grew up in India. He did his undergrad in Chemistry, and obtained his
PhD
from the University of North Carolina at Chapel Hill in RNA biochemistry. He enjoys reading fiction, good food (both preparing and consuming!), and outdoor activities. He is also a part-time MBA student at The Rotman School of Management (University of Toronto). In the Claycomb lab, Tuhin is primarily focused on exploring a novel extracellular RNAi transmission mechanism using
C. elegans
as a model system.
Email Tuhin
Undergraduate Students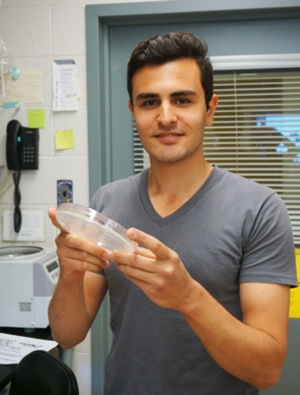 Bakhtiyar Taghizada
Bakhtiyar
grew up in Ganja, Azerbaijan, a city where plane trees are everywhere. He is entering his fourth year of undergraduate studies at the University of Toronto (as a Molecular Genetics specialist with a Genome Biology major), and his interests cover everything among science, art, and philosophy. Bakhtiyar also comes from a Drosophila background, yet is enjoying working with worms. He is especially amused by his worms when they do the
"harlem shake"
in liquid, but, unlike his worms, Bakhtiyar cannot swim. Bakhtiyar enjoys playing the guitar, doing kendo and reading scientific-philosophic books of great thinkers. His favorite food is an Azeri dish called badimcan dolmasi (a mixture of meat, rice, and spices cooked while stuffed in a tomato, an eggplant, and a green pepper), which he promises to make for the lab soon. This summer, he is investigating how environmental stresses impact gene expression via small RNA pathways.
Email Bakhtiyar
Lab Manager and Technician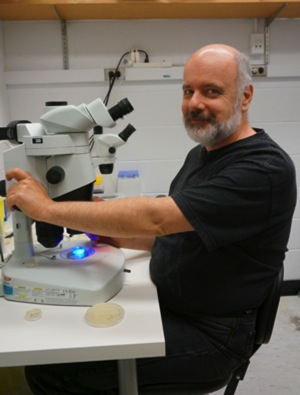 Aldis Krizus
Aldis
received his BSc in Genetics at the University of Guelph. When asked where he grew up, Aldis will tell you that, "The difference between kids and adults is that kids never stop asking questions. Scientists never stop asking questions...." Aldis thinks that humans are a good model for understanding C. elegans and shares most of his wisdom through his choice of T-shirts on any given day. His favorites include hunting deep sky faint
fuzzy objects
and pizza, all kinds of pizza.
Email Aldis
Lab Alumni
Vivian Cheung
, M.Sc. Student (2012-2014)
[Now technician at Navarre Lab, U of T (Molecular Genetics]
Michelle Francisco
, M.Sc. Student (2011-2014)
[Now lab manager at Huang Lab, Sick Kids]
Hasina Dhanani
, Undergraduate Student (2014)
[Now in Med. School]
Samantha Del Borrello
, Undergraduate Student (2013-2014)

Daniel Li
, Undergraduate Student (2013)
[Now in Med. School]
Wendy Cao
, Undergraduate Student (2011-2013)
[Now in the Lipshitz Lab at U of T (Molecular Genetics)
]
Ivy Su
, Technician (2012)

Eesha Sharma
, Undergraduate Student (2011-2012)
[Now in the Blencowe Lab at U of T (Molecular Genetics)
]
Monica Tolosa
, Undergraduate Student (2011-2012)
[Now in the Yuen Lab at UNH (LMP)]