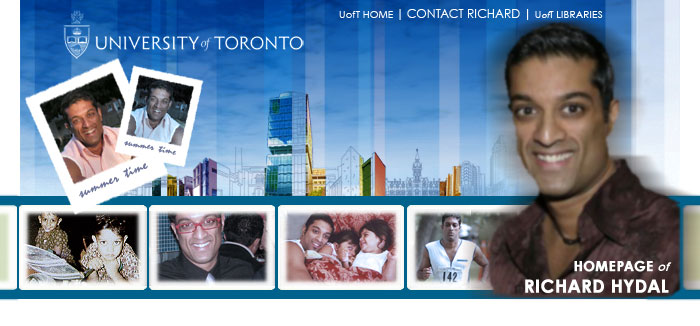 Committee Work
Consortium Projects:
RACER (Rapid Access to Electronic Requesting)
Allows users to search the library catalogues of Ontario Universities; a component of the scholarsportal.info project.

Website Development & Working Group/ website
University of Toronto Libraries:
Workplace Health Fair, 2nd Annual (March 16, 2006)

Life Stories, UofT Libraries Staff Picks Exhibition (November 2005 - May 2006)

Library Website Redesign (March 2005 -)

Shady Characters, UofT Libraries Staff Picks Exhibition (January - June 2005)

Staff Conferences 2005 & 2006

Workplace Health Fairs 2005 & 2006

Digital Collections
Relationship by Objectives Program (RBO) with the Ministry of Labour
CUPE 1230 Executive
CUPE 1230 Bargaining and Negotiating Committee
Committee on Signage
Diversity Committee.
University of Toronto:
Presidential Search Committee
Governing Council and Academic Board Candidate, Administrative Staff
Various University Web Development Teams: New College, UofT Day, EnviReform Conferences, BAITWorm Conference Organizing Committee, Advisory Committee for Teachcom
Hiring Committees:
Information Technology Services: Applications Programmer; Coordinator Web Development
Library Services Coordinator.
This page was last updated May 25, 2006.
Your comments and questions are welcomed.
All contents copyright © Richard Hydal
University of Toronto Libraries