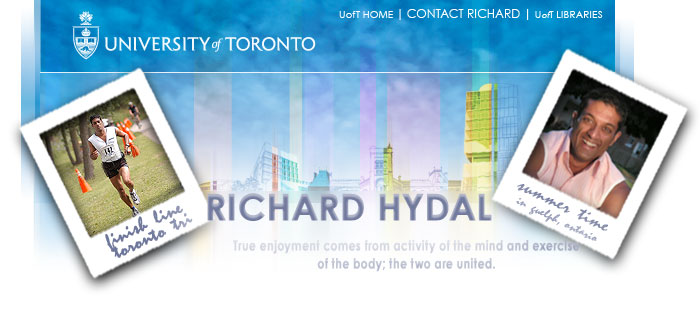 Sport & Fitness
triathlons & me
I have always been physically active and interested in the broader issues of health and well being so when a good friend suggested I try doing a triathlon, I laughed at the idea. "There is no way I could do that!" but to my surprise I was able to do it and have continued over the years to stay physically and mentally active.

What everyone asks me when I say that I am going to do, or have done a triathlon is, "I can't do that!". My answer is yes you can! Reality isn't so harsh, we've not competing as Olympians and we're not competing in the Olympic triathlon distances. If you can swim, bike and run you can do a triathlon, the question becomes can you do it in a time acceptable to you and to be happy with your performance in the event. The easier way to begin is too register for the try a tri races. They are shortened distances of the sprint triathlon races.
Some basic considerations:
Be active or plan to be, you must devote time to training
Get support, gather information, plan and train
Ask yourself why do I want to do this
Elite athletics and me: they in reality only make up a tiny portion of competitors
You're competing against people in your age group
Enjoy the experience but realize that there are serious folks swimming, biking & running beside you

Basic Equipment:
Nutrition: water, energy bars
Swimming: goggles, swimsuit, wetsuit
Biking: racing bike vs "ordinary bike", padded cycling shorts, helmet
Running: good pair of running shoes
The Day of the Big Event
Eat something and be sure you've been eating and resting
Transporting your bike to the race site
Getting there on time, know where you're going ahead of time
Register early, pick up your race kit before the day if possible
find a spot in the transition area (the earlier the better for a good location), unpack your gear then get your racing chip and your body marked with your bib #
Ensure you have everything such as your race number (must be shown in the front), you've been body marked and your race chip works
Try to relax, warm up and wait patiently for the start of the tri
On your mark, GO!
Swimming: water temperature, get used to crowds and don't panic
Transition 1, swim to bike: hit the mat, change, be quick but remember to keep breathing
Biking: Pace yourself, you're got over half the race still to go
Transition 2, bike to run: hit the mat, change, be quick but remember to keep breathing, you're gonna feel it in your legs now for sure
Running: Your legs are jelly but you've only got the run left now
Post Race/Understanding the Race Results

Congratulate yourself, you did it!
Cool down, replenish your liquids
Take on nutrition, eat & enjoy the rest of the race!
Wait for the posting of the race results
My Race Results (excel file)
Toronto Waterfront Triathlon/Duathlon & Give-It-A-Tri (website)

July 16, 2006 / July 17, 2005 Cherry Beach, Toronto
2006 Times: Swim 23:01 / Bike 1:12:19 / Run 42:39 / Total Time: 2:23:11
2005 Times: Swim 15:55 / Bike 1:10:42 / Run 37:41 / Total Time: 2:10:04
Guelph Lake II Triathlon & Duathalon (website)

Aug. 31 , 2002 / Sept. 2, 2000 Cherry Beach, Toronto
2002 Times: Swim 16:55 / Bike 1:05:13 / Run 35:14 / Total Time: 1:57:21
2000 Times: Swim 18:41 / Bike 1:07:45 / Run 34:251 / Total Time: 2:00:51
1999 Times: Swim 18:09 / Bike 1:12:18 / Run 37:43 / Total Time: 2:14:51
ITU Toronto World Cup Triathlon & Duathlon

July 7, 2001 Exhibition Grounds, Toronto
Swim 750 m / Bike 20 km / Run 5 km (results issue)
links of interest
Triathlon Series Event Information
Training & Resources
Trifuel was originally created in late 2001 as a personal project to aggregate triathlon training and local services information and offer it to other like-minded athletes (very good website for information) [ website ]
Training for your first triathlon [ website ]
Common questions about your first triathlon [ website ]
Some good general information about the sport [ website ]
Six Week Plan Schedule [ website ]
Wasaga Beach Triathlon, Photo Gallery [ website ]
Associations
This page was last updated July 27, 2006.
Your comments and questions are welcomed.
All contents copyright © Richard Hydal
University of Toronto Libraries